How construction companies can boost their business: Useful insights by SEL Tiger TMT, one of the best TMT bar companies in India
In recent years, with increased urbanisation and industrialisation, construction companies have faced a surge in demand for infrastructure, residential and commercial projects. However, with increase in demand, there has been an increase in competition. As a result, it has become important for construction companies to adopt effective strategies to boost their business performance, tap into new markets, and remain competitive in the industry.  From streamlined operations and improved project management to effective marketing techniques, there are a myriad of strategies that construction companies can use to successfully navigate the landscape. Here we discuss some useful strategies that a construction company should consider to boost their business:
Adding new services and competitive pricing

: Integrating new and trendy services such as renewable energy installations, smart home technology installations or sustainable construction practices, can significantly boost the business of a construction company. It can help the company stand out from their competitors, boost its reputation, and appeal to a wider customer base. Also, competitive pricing can help customers make better purchasing decisions. When deciding on the pricing, study the competitors' pricing patterns and adjust accordingly. For some projects, it can be a good idea to offer discounts and promotions which can also attract more customers.

Leverage the power of technology

: Investing in the latest technological advancements can help construction companies stay ahead of the competition and meet the demands of the modern construction industry. The companies should actively adopt new technologies such as Building Information Modeling (BIM) software, drones for surveying and mapping, and project management software which can help streamline construction processes, reduce errors, and increase efficiency.

Maintain quality and safety

: Placing a strong emphasis on quality and safety can help the construction company build a strong reputation in the market. When it comes to quality and safety, it is important that construction companies buy high-quality construction materials such as TMT bars, cement and concrete.




Reputed construction companies prefer using

SEL Tiger TMT bars as they are certified for MS and CRS Grades through IS 2830:2012 compliance. They also comply with IS 1786:2008 for CRS, FE415, and Fe550D Grade. As one of the top TMT brands, SEL Tiger TMT bars boast of consistent quality that make them an ideal choice for all construction projects.
Companies should implement stringent quality control procedures to ensure that each and every aspect of the project – right from the planning to construction, meets the requisite industry standards and regulations.
Strict quality control processes also ensure that the final outcome meets the client's requirements and reduces the risk of rework and costly errors.
Companies should also invest in employee training to keep their staff up-to-date with the advanced construction techniques, safety practices and quality standards.
Collaboration

: To achieve business growth, it is important for a construction company to expand its networks and offer extensive services to clients. This can be achieved by collaborating with different businesses such as architects, interior designers and suppliers. Great collaborations can boost the reputation of the company and increase its visibility in the industry. Construction companies can also partner with different builders and contractors to boost their business. Most construction companies gain a wider clientele and generate higher sales when they start building relationships with industry professionals and reputed manufacturers.

Online presence

: Construction companies should work on developing and maintaining an online presence on social media platforms and review sites. This helps them reach a wider client base and build a strong connection with them. When it comes to social media, companies can showcase their past projects, share client testimonials and provide substantial content to attract potential clients.
You might like to read: Construction Trends To Watch Out in 2023

Are you planning to buy the best TMT in India for your next project? 
Check SEL Tiger TMT Bars. Made using the latest and advanced technology, our TMT bars are strong, bendable, fire and corrosion resistant. The unique rib design of our TMT bars gives maximum Rib Area (AR) value, ensuring a strong, long-lasting bond with cement (concrete). To know more about our TMT bars, get in touch with us.
TMT bar in India for home construction: check these useful insights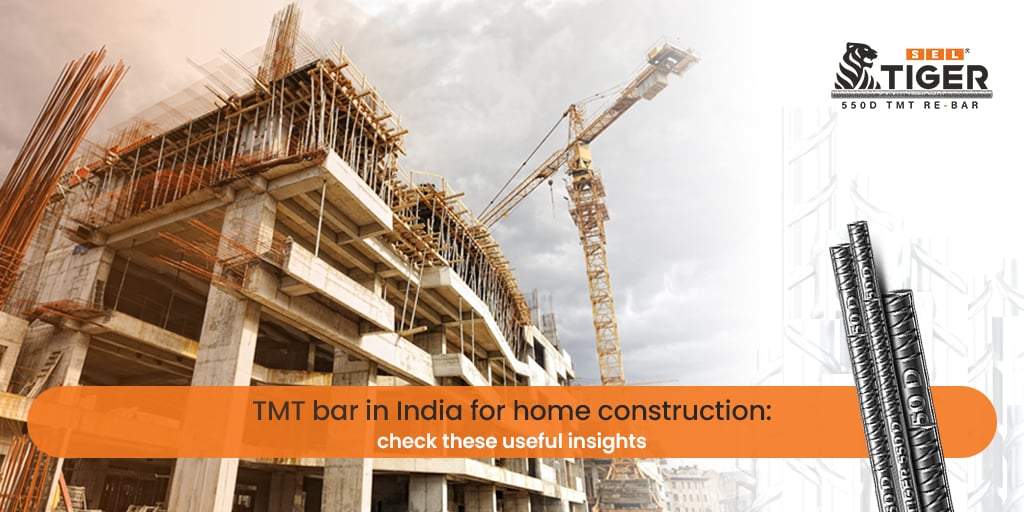 Are you planning to build your dream house? Then you must use top quality TMT bars. TMT bars are considered one of the most important construction materials and are widely used in residential and commercial buildings. TMT bars are mechanically treated so that they can withstand a good amount of pressure and load. This helps in ensuring the overall structural stability of a building. If you are looking to buy TMT bar in India for home construction, here are some insights that you will find useful:
Insight 1: There are different grades of TMT bars
A good understanding of the different grades of TMT bars will come handy while you are sourcing TMT bars for your project. Different projects may call for different types of TMT bars. They vary from one another depending
Yield strength
Dimensions
Features
Elongation
The Fe- 550D TMT bars are ideal for residential, commercial and multi-storey projects. They are apt for construction in earthquake-prone areas.
Insight 2: Reasons why TMT bars are used in the construction of buildings
TMT bars are an important construction material that enhances the better holding and anchoring properties of the building. Though cement or reinforced cement concrete are strong, they lack tensile strength and ductility. When cement is reinforced with TMT bars, it creates a stronger bond. The ribs of the top quality
TMT bars ensure that they have a good grip on the concrete and there is no slippage.
Insight 3: Key features of top quality TMT bars
Often when people are buying TMT bars for the first time, they solely base their decision on price. However, they must realise that not all TMT bars are the same. They differ as per their chemical composition and mechanical properties. You must not just review Fe grade reading but also other details that manufacturers provide. Here are a few things you must check at the time of purchase:
Strength
Design
Corrosion resistance
Earthquake resistance
Manufacturing technology
Certification
Ductility
Weldability
Purity
Cost effective
Insight 4: Safety certifications are a must to check
Before buying TMT bars, it is to ensure that you are buying top quality TMT bars. One of the best ways to check the quality of TMT bars is to look for certification. top quality TMT bars are certified by leading monitoring agencies. Certified TMT bars may cost you more than ordinary ones but they ensure the safety of the construction project.
Insight 5: Do check the manufacturer's reputation
If you want to buy top quality TMT bars, you must check the manufacturer's reputation. For that you must check their website carefully. Look for important things such as manufacturing capability, customer testimonials and projects in which their products have been used.
Looking for top quality TMT bars: Buy SEL Tiger TMT bars
SEL Tiger TMT Bars are widely used in the construction industry. Made in automated factories, our TMT bars have accurate and perfect ribs, giving better bondaage on the concrete. They are fire resistant, corrosion resistant as well as earthquake resistant. Our TMT bars are made 100% pure steel by integrating the German-based quenching system – THERMEX. Our TMT bars are
BIS certified
ISO certified
NABL approved