Planning to build a new home in Rajasthan? Here are some useful insights on storing common construction materials such as cement and TMT saria
If you are planning to build a new home in Rajasthan, you must be really excited about it and want the construction work to start as soon as possible. However, before your dream home can become a reality, you must ensure that all the construction materials are safely handled so that the contractor can use them whenever needed. If not properly stored, construction materials may degrade making them useless. Here we share with you some useful insights on storing common construction materials such as cement and TMT Saria:  
1. Let trained workers handle all construction materials 
Cement, bricks ,and saria are some materials that require different methods of handling. Always let trained workers handle these materials. Those who may not have any experience in handling such materials may end up getting hurt or running the materials.  
2. Do not store different materials together 
For home construction, different types of materials are used. Some construction materials can react with each other when they are kept together. For instance, highly flammable materials should be stored outside the construction area. They must be kept away from other construction materials. For instance, plywood, paint and petrol should not be stored together. These materials, when stored together, can trigger a fire. In case outdoor storage is not possible, internal storage must be arranged in such a way that safety measures are taken.  
3. Choose the storage space as per the construction material 
Here are some ways to store common construction materials: 
TMT bars:

TMT bars must be kept in a dry and moisture-free storage place. If the TMT bars are not to be used immediately, they must be appropriately packaged or covered with plastic sheets. The humidity levels inside the storage area should not be too high. Also, the storage space needs to have proper ventilation.
Note: Do not stack too many bars together as it can lead to an accident if they fall. Also, it may damage the physical properties of the TMT bars.
Cement

: Keep cement in a dry, leak-proof ,and moisture-proof environment. All the doors and windows must be kept closed.Bags must be stacked above the ground.

Bricks:

When not handled properly, bricks can break, crack or chip. To prevent any damage, bricks should be stored on a flat surface. Direct contact with the ground should be avoided. They should be stacked in a way that allows easy handling. Make sure there's adequate air circulation around the bricks. 
4. Do not store too much construction material 
Each construction material has its storage weight limit, which is mentioned on its packaging. When handling and storing construction materials, the weight limit should not be ignored. Make sure that the workers follow the weight limit when handling and storing the materials. 
Note: Always make sure that the construction materials that you are using are of high quality. 
Looking for TMT Saria? Check TMT Saria price in Rajasthan and other important details 
Explore SEL Tiger TMT bars. Our TMT bars are highly durable and malleable. Also, they are BIS and ISO certified. We use high-grade raw materials and advanced manufacturing technique called THERMEX. 
Our SEL Tiger TMT bars are known for their: 
Tiger bond with RCC

Weldability 

Strength and ductility

Fire and corrosion resistance

Purity

Bendability and bendability

Earthquake resistance
To check TMT Saria's price in Rajasthan, click here.
Building a new home in Rajasthan? How to prepare for a meeting with an architect?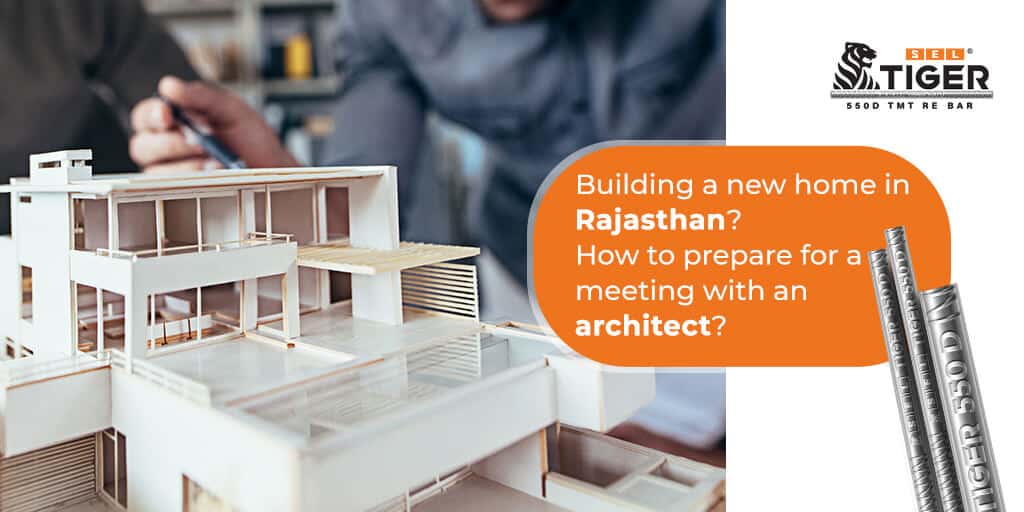 If you live in Rajasthan and are building your dream house for the first time, finding the right architect for your project is important. It is essential to meet different architects to determine if they possess the right skills to develop your project. To get the most out of your initial meeting with an architect, it's important to be well-prepared. Here are some tips to prepare for a meeting with an architect:
Check their credentials
Though in India, architects do not need a licence to practice, it's a good idea to work with an architect who is registered with the Council of Architecture. Before meeting different architects, do your due diligence with regards to their credentials and experience. Ask to see examples of their previous work and see if they have any previous customer testimonials.
Know your needs
Building a new home isn't an overnight process. It's something that could take anything from a few months and even years, depending on the scope of work. As an architect has an important role to play in this journey, it is essential to understand different types of architects and what you need. For instance, if you are renovating your house, you may need an interior architect who can focus on creating interior spaces. However, if you are building a new house, look for residential architects with similar experience.
Create checklist
For a fruitful meeting, go to your first meeting with an architect fully prepared. Write down all your must haves/wants. It's also a good idea to take plenty of newspaper/magazine cuttings of home designs you really like. This way you will be better able to tell what you want and the architect will know the kind of home you're looking for.
Talk money
It is best to tell your architect about your budget and at the same time, understand how his or her fees will be calculated. Some architects charge on the basis of the time they invest while some while others search a fixed percentage of the overall construction cost.
Ask what quality construction materials
Architects work closely with structural engineers on choosing construction materials based on their load-bearing capabilities. Concrete, TMT bars, steel, wood, masonry, and stone are some construction materials that are used in building a house. Each has different grades, strength, and durability, which make them right for various applications. Architects also choose materials based on cost and aesthetics. During your meeting you can ask what grade of construction materials they recommend.
As TMT bars carry the load of your entire building, ask architects to suggest the right grade of TMT bars for your project. Fe 550D TMT bars are widely used for residential and commercial projects.
Looking for top quality TMT bars in Rajasthan?
Our SEL Tiger TMT bars have been used in leading housing projects. Made with superior technology, our SEL Tiger TMT Bars
Can withstand the impacts of harsh external weather such as rain, groundwater salinity or acidic substances.
Can withstand high temperatures up to 600°C to 650°C.
Are ideal high seismic zones as they have high bendability, allowing them to withstand the effects of earthquakes.
are BIS certified, ISO certified and NABL approved.
To know the TMT bar price in Rajasthan, get in touch with us.
Ask what they need from you
Before you end the meeting, ask the architect what information they need from you. An architect might need information relating to land deeds. This will help the architect understand what are the local regulations and what permission needs to be taken before any kind of construction work is started.