Home building trends to watch out in 2023: From biophilic design to the use of the best iron rods in India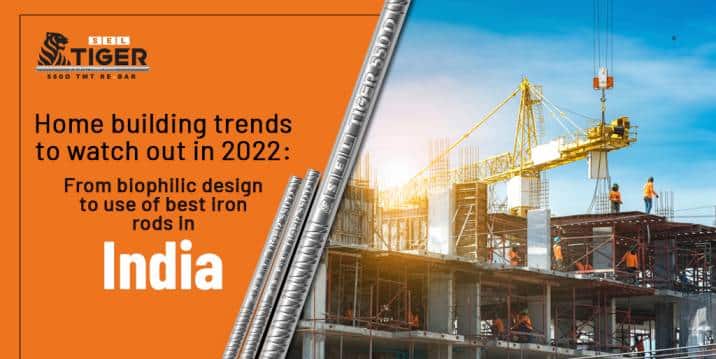 With each year comes an opportunity to re-think your home and make it more comfortable, stylish, and functional. With that in mind, here we share with some of the best home-building trends to watch out in 2023:
1. Biophilic design: If there's one trend that is unlikely to fade, it's the biophilic design. It is a concept used to increase your connection to nature by incorporating natural materials.  Biophilic design principles can be implemented in any type of home, from contemporary to traditional. In a traditional home, this might mean incorporating more wood panelling or stone fireplaces. In a contemporary home, it might mean large windows and ample houseplants. Some of the biophilic design ideas include:
Use plants as a design element:

 Plants can help purify the air and make the space look more lively. They can also add visual interest and a sense of tranquillity to any space.  You can dedicate an entire wall to plants, line your staircase with potted plants. You can also have a terrace or balcony garden. 

Highlight the outside view: 

If you are constructing your home, make sure the design elements not only allow more sunlight in but also capture the beauty of outdoor view such as landscape or city views. You can frame views of the outdoors with large picture windows. Large windows will also let in sunlight, making the space look bright and airy. 

Decorate with natural elements:

Apart from decorating with plants, you can capture a natural feel by filling your home with textures, colours, and shapes that mimic nature. The use of natural materials such as stone, wood, cork, bamboo, and coir can help you achieve a rustic and close-to-nature look.
2. Use of best iron rods in India: Before building a house, it is essential to lay a strong foundation. The quality of the construction materials used will determine how well the foundation will withstand the ravages of time and weather. When choosing construction materials, it is important to select the best quality products to ensure the longevity and strength of the structure. One of the most important components of a strong foundation is the iron bars used to reinforce the concrete. Careful planning is required to choose the best quality iron bars. Here are a few things you should consider when buying the best quality iron: 
Manufacturing technique:

The quality of a TMT bar is determined by the manufacturing technique used.

SEL Tiger TMT bars

are manufactured using the latest  THERMEX technology. The advanced quenching method gives our SEL Tiger TMT bars a unique rib design which ensures a strong, long-lasting Tiger Bond with RCC. 

Bendability:

One of the unique properties of TMT bars is their bendability. It is because of the advanced quenching process. TMT bars are tough on the surface yet soft in the core. This makes it easy to bend without breaking, making them ideal for use in a variety of construction projects. 

Earthquake resistance:

Mechanical features such as high elongation percentage and high yield strength are critical for defining the bar's capacity to withstand shocks caused by earthquake.  Our SEL Tiger TMT bars have 16% elongation, which exceeds the 12% industry standard. This makes our TMT bars appropriate for use in high seismic zones.  

Fire resistance:

Good quality TMT bars have higher thermal stability and fire resistance.  Our SEL TMT bars have a higher melting point, meaning that they can withstand higher temperatures before they start to melt.
3. Colourful kitchens: The kitchen is the heart of the house. It is where you cook and gather with family and friends. So it's no wonder that homeowners are ensuring that the kitchen is no longer dull and drab. Gone are the days of all-white cabinets and counters. Modern kitchens have a dual-colour scheme, creating a contrast.
4. Black accents: If you are looking to give your home a stylish update in the near future, you may want to consider painting your window frames black. This trend has been slowly gaining popularity over the past few years and it shows no signs of slowing down. Black window frames can give a modern and sophisticated look to any home and they can be easily paired with lacquered entryway doors.
5. Bold wallpaper: The wallpapers are back with a bang. These days,  homeowners are using striking wallpapers to change the entire look and feel of the room. A colourful and wallpaper can elevate the look of a drab entryway or a cramped corner.  A subtle wallpaper adds dimension and makes the room look spacious.
6. Statement ceiling: Statement ceilings are the latest interior design trend to take over residential spaces. Turning the spotlight on your ceiling instead is a great way to shake things up and create a cool design moment.
Looking for the best TMT bar company in India?
We manufacture high-quality TMT bars. We have factories in Sambalpur, Jamuria. Mangalpur, Pakuria and Girdih.  Our Jamuria and Mangalpur plants cater to customers belonging to West Bengal. Our SEL Tiger TMT bars are fire-resistant, corrosion-resistant, earthquake resistant.  As they have excellent bendability and flexibility, they are ideal for earthquake-prone areas.  They are certified by BIS and ISO.For more information feel free to contact us.
Useful insights on creating the perfect floor plan for your home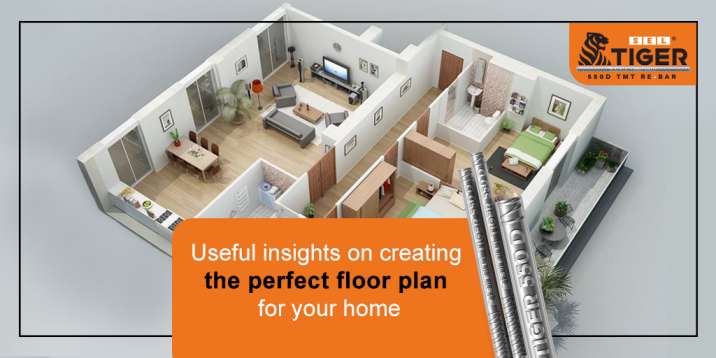 A floor plan shows the basic layout of the property in scale from an aerial view. The drawing shows the relationship between rooms and how people will move through them. If you are getting your house built, an architect will design a floor plan that will give you an idea of the flow of the space. It will serve as the initial blueprint for your home that the contractors will refer to during construction. Here are some useful for creating the perfect floor plan for your home: 
Know the traffic flow:

The layout of your home can have a big impact on the way you live. If you're looking for a more open and spacious feel, an open-plan living/dining/kitchen space may be right for you. This type of floor plan is becoming increasingly popular as it can make a home feel larger. Another important consideration is the flow between indoors and outdoors. If you plan to spend a lot of time gardening, you'll want to make sure your backdoor is open to the kitchen or near a small bathroom so you can easily wash the dirt off before tracking it through the house.

Ensure to have a good amount of storage:

Having a place for everything and keeping your things organised can be a challenge, especially if your storage spaces are limited. That's why it's important to plan ahead and make sure you have enough room to store all of your belongings. When you're designing your home, be sure to include plenty of pantries, closets, and built-in cabinets. You can always fill the extra space with items that you use on a daily basis or seasonal decor. But if your storage areas are too small, you'll find yourself constantly struggling to find a place for your things.

Be practical:

While the clean lines and open concept of modern home design have their merits, there is something to be said for a more traditional floor plan. If you entertain often or have children, you may find that an open concept house can feel a bit chaotic. Having defined spaces for different activities such as a living room for relaxing and a family room for watching TV can help to create a sense of order in your home. Though it may seem like a small detail, having a closet or mudroom near the front entrance can be extremely convenient for both you and your guests. When it comes to your home, don't be afraid to go against the trend and choose what works best for you and your family.

Be aware of the future needs:

When you are planning your dream home, it is important to think about more than just the present. You also need to think about the future and how your needs may change over time. For example, if you have children:
Will your home be able to accommodate many children?

Is there any space for a nursery?

Do you have space to boost your home-based business? 
Note: Make sure the contractor uses top-quality construction materials. TMT Bars are one of the most important building materials as they support the entire structure. Use 550D TMT bars as they are known for high strength and ductility. 
Are you looking for the best TMT bar company in India?
If you are looking for the best iron rods in India, explore SEL Tiger TMT bars. Our TMT bars are corrosion and fire-resistant and earthquake-resistant. Our TMT bars are ISO certified, BIS certified and NABL approved. Get in touch with us to know more.