Construction Trends To Watch Out in 2023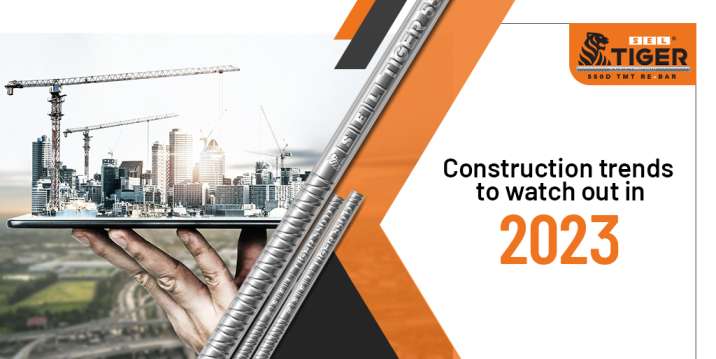 Building your own custom home is an incredible opportunity to create a space that suits your preferences and lifestyle. You have the freedom to select everything you want, starting from building materials to house plans . If you are getting your house constructed, here are some construction trends to watch out in 2023: 
1. Open and flexible floor plans: Modern homes have become synonymous with open floor plans. Unobstructed by walls, open floor plans make the living room area a unified space where the kitchen, the dining space and living area merge. Such floor plans remove separation and provide a more free-flowing area for entertainment or family time.
2. Individual style: Construction trends are reflecting a move toward personal style and individuality. More and more homeowners are choosing designs and materials that reflect who they are. Rather than working around a pre-existing home's floor plan, homeowners are planning every detail to create their dream home. For instance, from home office to home gym, from floor to ceiling windows to skylights, homeowners are making their house an extension of their personality. 
3. Sustainable building practices: Standard construction practices often contribute towards air pollution, water pollution and waste generation. However, homeowners, architects and contractors are adopting a "green" approach. Homeowners ask their contractors to opt for eco-friendly building materials and practices to make their home sustainable. From using cement and concrete that consume less water to making provisions for water harvesting and solar panels, there's a huge interest in reducing the overall footprint of the house. 
4. Earthquake-resistant buildings:  As 56% of India's land area is prone to moderate-to-severe earthquakes, homeowners are making sure that they use high-quality construction materials to give their homes the stability and strength to resist the effects of earthquakes. One way to ensure the stability of a structure is to use earthquake-resistant TMT rods. High quality TMT rods have good bendability. This ensures that they do not break under stress.
If you are looking for top best quality TMT rods, explore SEL Tiger TMT bars. Standard TMT rods have 14% elongation whereas SEL TigerTMT bars have 16% elongation.  This bendability and flexibility help TMT bars in resisting the effects of earthquakes. SEL Tiger TMT bars comply with IS 1786:2008 for CRS Fe550D Grade. The unique composition of 550D allows our SEL Tiger TMT bars to resist corrosion and weathering, making it a durable choice for any construction project. Click here for rod price in Odisha. For more information, contact us. 
5. Outdoor living: While it is not a new trend, there's a renewed interest among homeowners in making outdoor spaces more livable. Homeowners are converting their backyards and patios into extended living spaces for dining and entertaining purposes.  Outdoor kitchens, water features, and gazebos make the outdoor space more functional and stylish. 
Patterns and bold colours: While the last few years have seen a strong presence of minimalism and neutrals, there has been a shift to patterns and bold colours. Homeowners are using deep and moody colour tones to lend their homes a unique look. To break the monotony of neutral walls, patterned furniture pieces are being used. Wallpaper back with a bang. They are being used to add a "wow" factor to the living space.
Looking for TMT bar in Odisha? Here are a few things to know
Building your dream house is not just a financial investment but also an emotional one.  It goes without saying that you must ensure that you choose construction materials such as TMT bars and cement carefully. If you are planning to buy the best TMT bar in Odisha, here are 5 things you must check:
Grade of TMT bars
Understanding different grades of TMT bars is the first thing you should do when you buy a TMT bar in Odisha. You will find Fe-415, Fe-500, Fe-550, and Fe-600 TMT bars. The numbers indicate the level of stress that must be applied to deform it. The Fe- 550D TMT bars are the most preferred grade for commercial, residential and many other projects. They are ideal for earthquake-prone regions as they can bear seismic and dynamic loading.
Latest manufacturing technology
A TMT bar's strength can be determined by how it is manufactured.  SEL TMT bars are manufactured using 100% pure steel through the latest technology Thermex (a German-based quenching system). This makes our TMT bars tougher on the outside and soft on the inside, ensuring that they are highly durable and malleable at the same time.
Certification
Certification is one of the most important factors to take into consideration while buying the TMT bars. It is recommended to choose TMT brands that are certified for quality and safety by leading monitoring agencies. Though certified TMT bars are priced on the higher side, they ensure the safety of the construction project. Our TMT bars are:
BIS certified
ISO certified
NABL approved
Flexibility
TMT bars should have flexibility and bendability to withstand stress. These properties ensure that the TMT bars do not develop cracks while bending but regain their form and shape. Cracks could increase the problems of structural integrity. Check whether the TMT bars have good flexibility or not, before buying them. The balanced proportion of carbon and manganese give our TMT better bendability to resist earthquakes.  Fe-550D TMT bars have an elongation of 14.5% which helps them resist earthquakes.
High corrosion resistance
Ordinary TMT bars corrode due to the constant exposure to moist air and heavy rainfall. When such bars are not able to withstand the load and pressure for long, they compromise the structural integrity of the building. At the time of buying TMT bars, make sure that they are corrosion resistant.
Looking for the best  TMT bar in Odisha?
If you are looking for TMT bar in Odisha, explore SEL Tiger TMT bars.  Manufactured using the advanced quenching process, our TMT bars are fire and corrosion-resistant. They possess excellent bendability which makes them ideal for earthquake-prone areas. SEL tiger TMT Rebar gives you maximum rib area (AR) value through its unique rib design which provides one of the highest bond strengths with cement. SEL Tiger TMT Rebar is certified by India's best reputed Labs. Give your home the strength of a Tiger with SEL Tiger TMT Re-Bars.
To know the TMT bar price in Odisha, get in touch with us.