How to find the best TMT rebar manufacturer in Jaipur?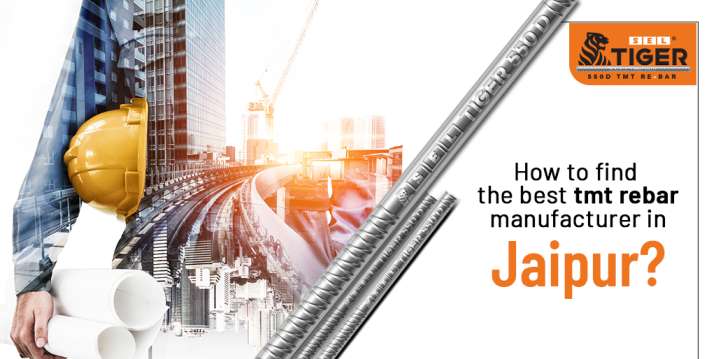 Building a home is a lifetime investment and using subpar construction materials can lead to problems down the road. Among various construction materials used in building a foundation, TMT bars are perhaps the most important. TMT bars are used to reinforce concrete and their strength and durability are crucial in keeping a foundation sturdy. If you are making your dream home in Jaipur, it is important to use only high-quality TMT bars. You must choose the material from a reputed TMT rebar manufacturer in Jaipur.  Here are some tips to select the best TMT rebar manufacturer in Jaipur: 
Understand the nature of the manufacturing process:
The manufacturing process is the key deciding factor in choosing high-quality TMT bars. Our SEL Tiger TMT bars are manufactured using 100% pure steel using the THERMEX technology – it is a German-based quenching system that is used to manufacture high-grade TMT bars. The output produced by using the Thermex method is not just of high grade but has many other qualities such as high tensile, high weldability, durability, strength and ductility. 
Check the TMT grades the manufacturers are offering:
When choosing TMT bars for a project, it is important to understand the different grades available. The most common grades are Fe-415, Fe-500, Fe-600 and Fe-550. Of these grades, Fe-550D  is considered to be the best quality. They are used for both commercial and residential projects. Our SEL Tiger TMT bars comply with IS 1786:2008 for Fe550D Grade.
Check the features of TMT bars:
Choosing the right type of TMT bar for a construction project is essential. Not only must the TMT bar be strong and durable, but it must also be resistant to corrosion and fire.
Corrosion and fire resistant:

TMT bars are made of steel and have a coating of chromium and nickel alloy. This prevents them from corroding. They are also fire resistant. SEL Tiger TMT bars can

withstand temperatures up to 600 degree celsius. 

Flexibility and bendability:

TMT bars have good flexibility and bendability, which ensures that they do not develop cracks while bending. Our SEL Tiger TMT bars have 16% elongation, which exceeds the usual 12% norm. This flexibility and bendability help TMT bars in resisting the effects of earthquakes. 
Check the sizes of the TMT bars offered: 
Before you choose TMT bars for your house construction, it is important to check the size of the bars. SEL Tiger TMT bars are available in various sizes such as 32mm, 28mm, 25mm, 20mm, 16mm, 12mm, 10mm, 8mm and 5.5mm. The weight of the TMT bars is proportional to their size. For example, the weight of a 10mm TMT bar is 54 kg (a bundle consists of 8 pieces) and the weight of an 8mm TMT bar is 54 kg (a bundle consists of 12 pieces).
Find out the brand certifications:
Always check for the brand's certifications while choosing the TMT rebar manufacturers. It is because the certification ensures the quality of the TMT rebars. Some of the certifications of TMT bars include ISO and BIS. 
Our SEL Tiger TMT bars offer certified TMT bars such as:
ISO Certified

BIS Certified

NABL Certified 
Looking for a TMT rebar manufacturer in Jaipur?
If you are looking for the best TMT rebar manufacturer in Jaipur, explore SEL Tiger TMT bars. We offer TMT bars in different sizes. Our TMT bars are known for their superior ductility and high strength. Moreover, our TMT bars offer better bendability and ease of cutting making them ideal for all your construction needs. For more information about our TMT bars, get in touch with us.