How to build a strong building foundation? Useful insights on the use of TMT bars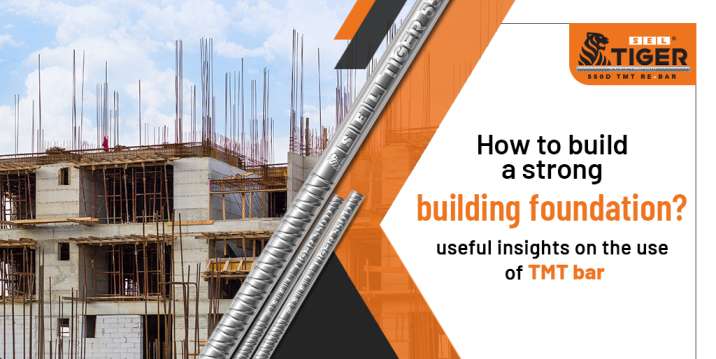 There are no two ways that the foundation on which a building is built is the most significant component. It is the basis of a building that transfers load from the superstructure to the earth. There can be structural problems in the future if the foundation is not built properly. Once the foundation starts rusting or deteriorating, the base of the columns will sink into the ground making the structure unstable. Although foundations are made from a number of materials — reinforced concrete, TMT rods, and stone. Here we share with you tips on building a strong building foundation and how to use of TMT bars for it: 
1. Know the soil condition: Before you start laying the foundation for your house,  it is important to understand the type and condition of soil. The type of soil you are constructing upon plays a huge role in choosing the building materials. It is a good idea to get soil inspection done before proceeding with any construction. Some of the soil tests that are done before laying the foundation are:
Moisture content test

Specific gravity of soil

Dry density of soil

Compaction test 
Note: The spacing of TMT bars depends on the type of soil. 
2. Use high quality TMT bars: TMT bars play a significant role in giving the foundation much-needed strength and stability. Good quality TMT bars also help in resisting the effects of earthquakes. The TMT bars are placed inside a block of concrete. Ideally, TMT bars should not be too close to the earth. Although these rods are mechanically treated so that they can withstand a good amount of pressure and load, this is done to reduce the risk of corrosion. One of the best ways to avoid this problem is to use high quality corrosion resistant TMT bars. 
If you are looking to buy corrosion-resistant TMT rods, explore SEL Tiger TMT bars. Manufactured using the latest quenching technology, SEL Tiger TMT bars come with enhanced anti-corrosive properties that ensure that they form a long-lasting bond with the concrete. Our TMT bars are not just corrosion-resistant but also earthquake-resistant. The high bendability of SEL Tiger TMT bars help the structure to withstand Tremors and after effects of earthquakes. As they comply with IS 1786:2008 for Fe 550D grade, SEL Tiger  TMT bars give houses a strong foundation making them ideal for earthquake-prone areas. To know TMT bar price in West Bengal, click here.  For information other than rod price in West Bengal, contact us.
3. The layout should be strategically planned: To make a strong foundation, the height and weight of the building needs to be taken into consideration. Usually, the foundation should be of equal length and size to take the weight of the house. 
4. Make sure there is no water in the concrete: When you build the foundation, it needs to be dry. If you start constructing on wet cement, the water will get trapped inside and the foundation will remain weak. Make sure that the foundation has no signs of cracks or water seepage from time to time. 
5. Use high quality bolts: The bolts that are fixed into the slab of the foundation play a significant role in making the foundation strong. Firstly, high quality and corrosion resistant bolts should be used. They should be set perfectly and evenly on the foundation.
Looking for a TMT rod dealership? Here's what you should look for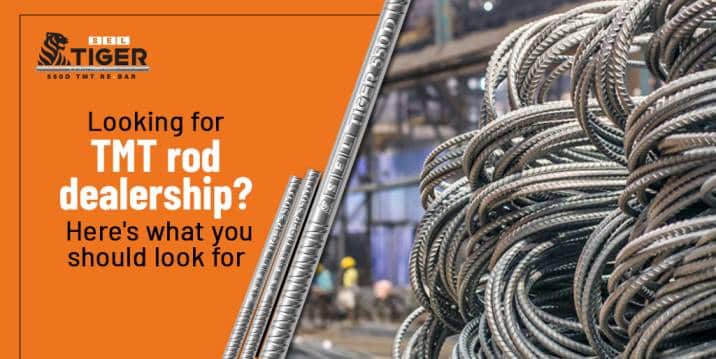 There's a huge demand for building materials in a developing country like India. If you are looking for a TMT bars dealership, it is important to partner with some of the leading manufacturers. Here are a few things you should look for when choosing a TMT rod dealership:
1. Consider quality: TMT bars are one of the most essential components in construction. They provide the necessary strength to structures, ensuring their safety and stability. The raw materials used in TMT bars affect their yield strength and ductility.
 SEL Tiger TMT bars are made using iron ore and coal to produce 100% pure steel. The perfect combination of carbon and manganese in the bars give them strength, making them fire, corrosion, and earthquake-resistant. 
Note: The quality of TMT bars is good when manufactured in integrated steel plants. The reason being companies do all the tasks from choosing raw material to molding and final finish. They have complete control over the quality of the TMT bars. We have  one of the best integrated steel manufacturing companies in India.
2. Manufacturing technology: When you are looking for a TMT rod dealership,  you must shortlist manufacturers who use the latest manufacturing technology. For instance, the cold twisting process of manufacturing Is no longer in use and many manufacturers have switched to hot treatment technology as that ensures higher yield strength.
We manufacture the TMT bars using Thermex technology, a German-based quenching system.  The automated CNC machines give our TMT bars a uniform rib pattern. The unique rib pattern of our TMT bars gives a strong and long-lasting Tiger Bond with RCC.
3. Relationship-focused culture: Look for TMT bars manufacturing companies that have a relationship-focused culture. At our company, we ensure that we have a collaborative and relationship focussed nature with our dealers. We have dedicated representatives for different areas with whom our dealers can interact directly.
4. Regular dealer meetups: When you are looking for a TMT rod dealership, look for a company that treats you like a partner and keeps you updated with the company's updates. We organise regular dealer meetups so that our dealers are updated
latest offerings. These meet-ups also present an excellent opportunity to dealers to any challenges that they may be encountering. Taking our dealers' feedback, we try to iron out problems.
5. Attractive profit margins: When you are looking for TMT companies that can ensure attractive profit margins, look for companies that help you to improve your inventory methods to avoid markdowns, reduce operating expenses and improve brand image by investing in branding and marketing.  We ensure that our dealers have attractive profit margins by offering all the support they need.
6. Year-round availability of products: As a TMT bar dealer, you must choose a manufacturer that can ensure not just quality but also scalability and timely delivery.    Make sure that the manufacturers you are dealing with have state-of-the-art facilities and multiple factories.   We have factories in Sambalpur, Jamuria, Mangalpur, Pakuria.  We ensure faster delivery in eastern India.
7. Dealer financing support: Dealers form an important link in the supply chain network and good TMT companies realise that. They provide dealer financing support to dealers via revolving and short-term loans. We offer our dealers financing support so that they have access to additional working capital. This enables them to drive business growth and increase our distribution penetration.
Looking for a TMT bars dealership? 
We have a wide network of dealers through which we cater to customers across India. 
If you want to become an authorised dealer of  SEL Tiger TMT bars, get in touch with us. 
TMT bars and natural disasters: check these insights
To build a home that is durable and long lasting, the materials used for construction have to be of the highest quality. TMT bars are a primary material used for all construction purposes. It is important to use the high quality TMT in
construction. TMT bars hold the structure together and thus, buy TMT bars that can withstand the impact of natural disasters. If you are building a new home, here are some useful on TMT bars and natural disasters:
Fire: Fires may be natural or man-made, depending on what originally caused the disaster. In case of fire, the damage to the building can be severe. Therefore, when choosing TMT bars, fire safety should be among the top priorities. The fire-resistant properties of TMT bars has made them a sought-after construction material. Our SEL TMT Bars are resistant upto 600°C to 650°C.
Rain: Poor quality TMT bars rust or corrode if they are exposed to oxygen and moisture. The corroded bars do not show much adhesiveness to the concrete and compromise the structural integrity of the building. With the combination of a proper quenching system and steel, our SEL Tiger TMT Bars can withstand impacts of harsh external weathers such as rain, groundwater salinity or acidic substances. Ordinary TMT bars do not have
these properties to withstand such conditions.
Storms and cyclones: Many cities in India are now frequently experiencing storms and cyclones. Strong winds can damage the buildings. Good quality TMT bars provide the building with structural stability, allowing it to withstand storms and cyclones. Produced and curated through automated machines, our SEL Tiger TMT bars are known for their solid grip on RCC. Ordinary bars with a smooth body lose their grip cyclones or earthquakes. This isn't the case with Our SEL Tiger TMT bars that have ribbed patterns.
Earthquake: TMT bars are known for offering strength and structural stability to buildings. Good-quality TMT bars are known for earthquake-resistant properties. Government regulations have made it compulsory to use TMT bars for important construction projects in earthquake-prone areas. Our SEL Tiger TMT bars are flexible and have high bendability. This helps the building to deal with the sideway movement and withstand the effects of earthquakes.
Looking for the leading TMT bar manufacturer?
We are among the best TMT brands in India. Our SEL Tiger TMT bars are known for strength, durability and versatility. We sell the best quality TMT bars in over 16 states in India. Our SEL Tiger TMT bars are manufactured using the German-based quenching system – THERMEX. Our products are certified for MS and CRS Grades through IS 2830:2012 compliance. Our TMT bars also comply with IS 1786:2008 for CRS, FE415, and Fe550D Grade.