Building a new house? Here are different types of roofs you should know about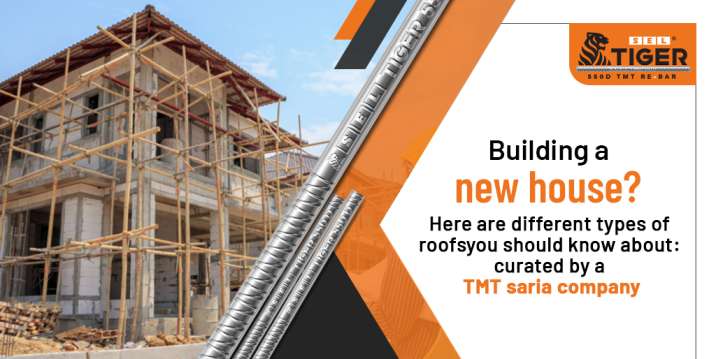 The roof of a house is one of the most important architectural elements of the house. It can help give your house a unique and signature look. If you are building a new house, it's a good idea to understand the different types of roofs so that you can choose the   right type to give your house the desired look and feel. As a reputed TMT saria company, we share with you a list of different types of roofs you should know about: 
Gable roofs:

Gable roofs are among the most popular types of roofs. They have a distinctive triangular shape, which often forms an A-shape. They not only look elegant but also are affordable. As their design is so simple, it can be built with almost any type of material. They are ideal for areas that receive a lot of rain. The slope diverts the water downwards. 

Gambrel roof:

Like gable roofs, gambrel roofs are also two-sided. But gambrel roofs have vertical gable ends and two slopes on each side. It makes the house look taller and gives increased storage or living space beneath its steeper sides.

Hip roof:

Often people confuse hip roofs with gable roofs. The two are distinct. Gable roofs have two symmetrical slopes on both sides. However, a hip roof slopes downward from all four sides. Hipped roofs are often preferred in extreme climates as the sturdy design makes them more durable. The design also prevents rainwater from accumulating.

Flat roofs:

As the name suggests, flat roofs are completely level or horizontal. They usually feature drain pipes and gutters to let water flow out. Usually flat roofs have one big advantage, they give you extra outdoor space that can be used to create a garden, place swings or use it as a patio.

Butterfly roofs:

Known for their distinctive design,  butterfly roofs have two sides that slope down and meet in the middle, making a "V" or butterfly wings. These roofs are one of the most aesthetically pleasing. They can be used in traditional as well as ultra-modern houses. For proper drainage of water a downspout is attached to the roof valley (V-shaped area). The water collected can be recycled.

Pyramid roofs:

These roofs are a type of hip roof with four sloping sides. These roofs get their name from their shape that looks like ancient pyramids. They are different from standard hip roofs which form a ridge in the centre. Pyramid roofs are ideal for smaller homes as they make the house look larger from the outside. They can also be used as roofs for certain parts of the home such as garages or sheds. They are also sturdier than gable roofs.

Mansard Roof

: Synonymous with the French architecture, a mansard roof is a combination of a hip and a gambrel roof. This four-sided design has a double slope. The lower slopes can be flat or curved. The Louvre Museum in Paris is an excellent example of the mansard roof. 
Looking for a TMT rod company for your house? 
Now, that you know the different types of roofs, it's important to understand that you create a strong foundation, columns and beams to give your house stability and strength. Although cement concrete is strong, it has low tensile strength. Therefore, high-quality TMT Bars are used in cement concrete to increase the tensile strength. As a reputed TMT rod company, we offer high-quality TMT bars. Available in sizes ranging from 5.5 mm to 32 mm, our SEL Tiger TMT bars are corrosion, earthquake, and fire-resistant. They are highly ductile and can hold the building during an earthquake for their tensile strength.  550D grade TMT bars are the most suitable for high seismic zones. SEL TIGER TMT bars comply with IS 1786:2008 for CRS Fe550D Grade. For more details, feel free to contact us.
How long does a whole house renovation take: useful insights by a TMT bar company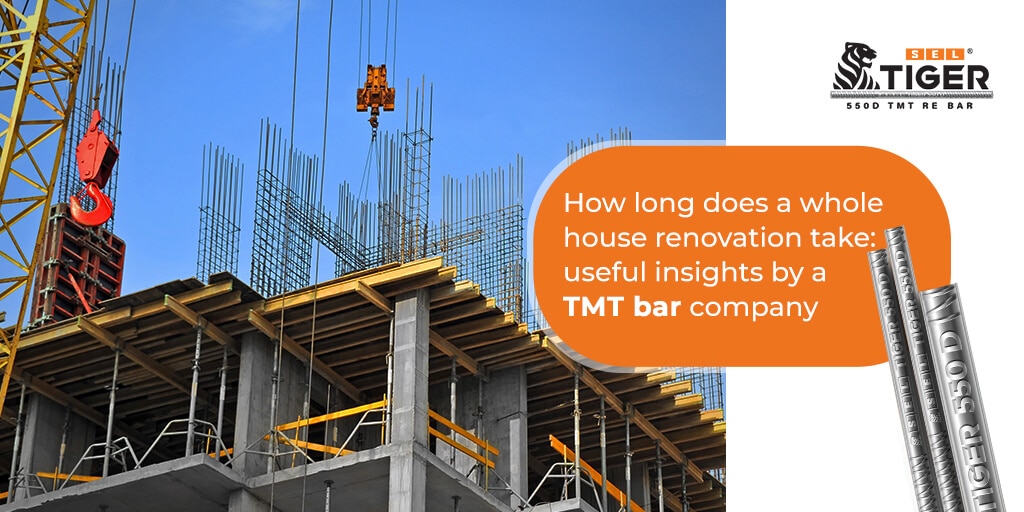 Home renovation is significant for a number of reasons. First and foremost, it can add value to your home. Furthermore, renovating can also help you make your home more comfortable and functional. However, renovation takes time. As a leading TMT bar company, we share with you on useful insights how much time a whole house renovation takes:
Note: In the construction industry, when it comes to predicting different projects' timeframes, there is no exact formula. The time required to complete a renovation project can vary based on several important factors such as:
Size, scope and complexity
Approvals
Availability of labour
Hiring an architect:
An architect is a professional who has the education, training, experience, and vision to guide you through the entire design and construction process. However, it is important to choose an architect who understands your needs, wants and vision. To find the right architect, you need to invest time in understanding what you want. This may take initial design meetings with several architects until you figure out which one you want to work with. Choosing an architect may take a few weeks or even a month.
Design approval:
The design phase for a house renovation can take anywhere from a few weeks to several months, depending on the size and scope of the project. During this time, the architect will work with you to create a custom design that meets your needs and budget. Once you approve the designs, they need to be submitted to the relevant authorities.
Construction permits:
For any major renovation, you need approval from the local authorities. You may seek approvals from bodies such as the local municipality and housing society. Some electrical work, plumbing work and exterior renovation may require additional approvals. In some cases, permits can be obtained within a matter of days, while in others the process may take 2 to 3 weeks or even longer.
Bidding phase:
The bidding phase of a house renovation typically takes 2 to 3 weeks. During this time, contractors will submit bids that will explain:
How will the project be executed?
Which construction materials will be used?
How will construction materials be procured?
What will be the deadline of the project?
You will then review the bids and select a contractor that you feel is best suited for the job. It is important to note that the bidding phase is not always the same for every house renovation.
A very important part of hiring contractors is to ensure that they are known for using high-quality construction materials such as cement, ready mix concrete, wood, tiles and TMT bars. TMT bars are the backbone of construction projects. If you are looking for TMT bars in Odisha, explore SEL Tiger TMT bars. Made using 100% pure steel, our TMT bars are technically superior. Our TMT bars are manufactured using the advanced German-based quenching process, which makes them fire and corrosion resistant. Our TMT bars are preferred by contractors as they can be easy to work with. They can be easily welded into desired shapes without producing any defects. Get in touch with us for more information about the TMT bar price in Odisha.
Construction phase:
Once the design process and bidding process are complete and all necessary permits have been obtained, the next stage is the construction. The duration of the construction phase will depend on the size and scope of the project, but most renovations take 3 to 9 months to complete. Some major renovation projects may even take over a year.
How to find a TMT bar company in Odisha?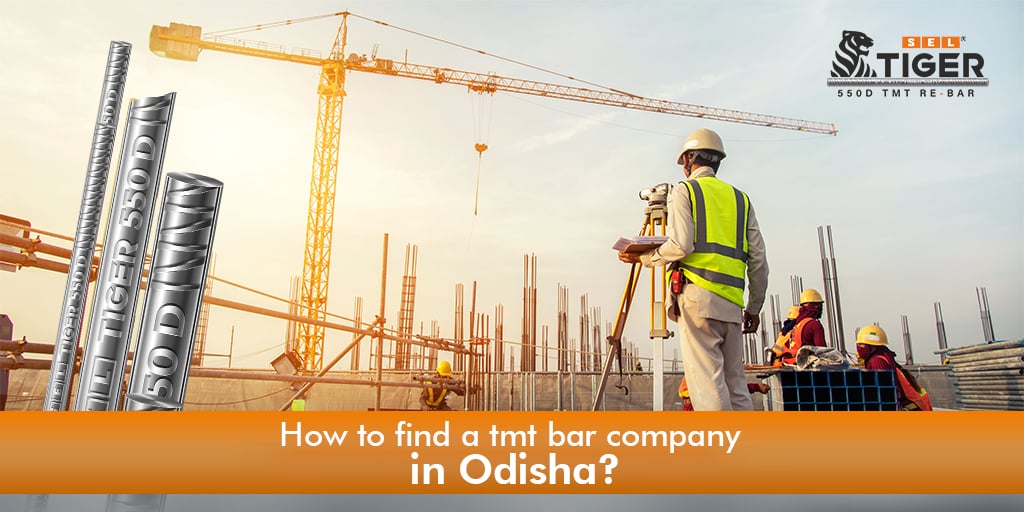 For many people, building a home is a once-in-a lifetime thing. From identifying the right contractor and architects to choosing the right construction materials, there are many crucial decisions to make at every step. TMT Bar is one of the most construction materials that affect the overall structural stability of a house. Therefore, it is important to buy TMT bars from a reputed TMT bar company. With so many TMT brands in the market, it can be overwhelming to choose one. Fret not! If you looking to to find a TMT bar company, here are some insights that you might find helpful:
Grade of TMT bars: TMT Bars come in different grades. The grade of the TMT Bar determines the strength and elongation. When you are zeroing in on a TMT bar company, make sure you go for one that offers high-quality
TMT Bars. Our SEL Tiger TMT BAR are widely used in the construction industry and are known for being:

Solid Grip on RCC: Made in automated factories, our SEL Tiger TMT Bars have accurate and perfect ribs. Forged in integrated steel plants, each bar passes through stringent quality checks. Its advanced rib design gives maximum Rib Area (AR) value, ensuring a strong, long-lasting Tiger Bond with cement (concrete). This keeps the structure
strong, safe and secure.
Resistance to Fire & Corrosion: Our SEL Tiger TMT Bars are resistant to harsh weather conditions such as storms and cyclones. They are also tested fire resistant up to the temperature range of 600°C to 650°C.
Resistant to Earthquake: Our SEL Tiger TMT bars are highly bendable and offer higher elongation. These properties help our TMT bars to resist the effects of earthquakes.
Cost effective: In comparison to steel bars, our SEL Tiger TMT bars are more cost effective. With the use of Fe415 vs Fe 550 , 3 to 4% can be saved in your TMT Bar purchases.

Certification: As house construction is an investment of lifetime, it is important to ensure that the TMT bars you are buying are of high quality. The best way to ensure that is to look for certification. A good TMT bar company would have all its certifications on their website. Our SEL Tiger TMT BARs are:

BIS certified
ISO certified

Note: The quality of our TMT bars are checked in NABL approved labs. They also have Thermex license and are certified for MS and CRS Grades through IS 2830:2012 compliance.

Manufacturing capabilities: A reputed TMT bar company uses the most innovative technologies in its factories to offer the best in class product. Our SEL Tiger TMT BARs are manufactured using the German-based
quenching system – THERMEX.Looking for a TMT bar company in Odisha?
We have two integrated powerful steel plants operating in Sambalpur in Odisha and Jamuria in West Bengal. Our Sambalpur plant caters to customers belonging to Odisha while our Jamuria and Mangalpur plant caters for the customers belonging to West Bengal. Our Sambalpur plant. All our factories use the latest technology to manufacture TMT bars. To know the TMT bar price in Odisha and other states, check out our rate chart.
Reputation: You should buy TMT Bars from reputed brands. SEL Tiger TMT bars are used in some of the upmarket housing projects in Odisha and other states.