From selecting the best TMT bar in India to choosing the right builder- here are some important factors to consider before you build your new home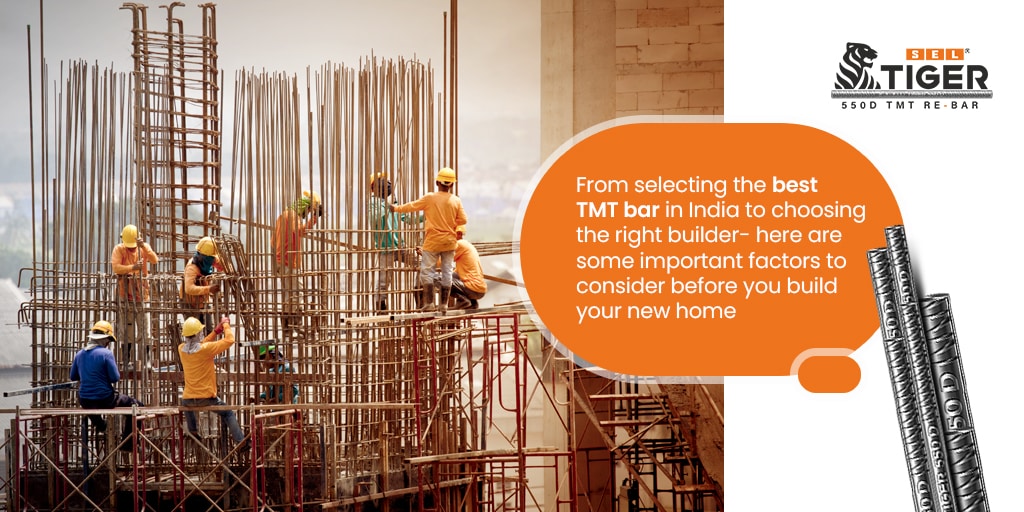 If you are planning to build your dream home, make sure you take advantage of the opportunity to create an ideal space that suits your lifestyle and needs. Building a home is a huge investment so it's important to get everything right from beginning till the end. To make things a bit easier for you, we share with you important factors to consider before you build your new home:
1. Checklist of your needs: It can be quite tempting to get started with the construction at the earliest. To avoid costly
redos it is best to go step-wise. Creating a checklist of must haves for your home project is important as it will help you communicate better with your architect and contractor.
2. Plan your space: When planning your space, there are some many things to consider. How many members will be living in the house? Do you want spacious rooms and kitchens? Do you have any special requirements of say a mini-theatre room or a small study? Keep your personal needs in mind when planning the space.
Note: Everybody wants a bright and airy house. At the time of planning the rooms and windows, make sure you take the direction of the sun into account.
3. Get the right material: Using the right materials is a very crucial factor in home construction. A good home should be able to last for decades. For that it has to be sturdy and well-constructed. Do not skimp on quality materials.
4. Select the best TMT bar in India: TMT bars carry the load of your entire building. And, that's one construction material that you should not compromise on. Ordinary TMT bars corrode due to the constant exposure to moist air or heavy rainfall. So, buy top quality bars that are corrosion and earthquake resistant. Fe 550D TMT bars are most widely used TMT bars used for residential and commercial projects.
We are among the best TMT brands in India. Our SEL Tiger TMT bars are known for their strength and durability. Made of 100% pure steel using the German-based quenching system – THERMEX, our SEL Tiger TMT bars
Have unique rib design gives maximum Rib Area (AR) value for a long-lasting Tiger Bond with concrete.
Are technologically superior
Are Corrosion-resistant
Are Earthquake resistant
Offer better bendability, re-bendability and ease of cutting.
Get in touch with us to know more about our TMT bars
5. Set the budget: Once you know your needs and wants, it's time to talk about budgeting. Using the checklist, research and create a budget. Figure out priorities, adjust the wishlist accordingly. Besides construction cost, there are many other additional expenses such as building permits, local authorities fees, off-site living expenses and property taxes. When chalking out the budget, do consider these expenditures.
Note: If you are taking a construction loan, remember not only expenses will be covered.
6. Choose the right builder: Choosing the right builder is important to make your dream house a reality. Before asking shortlisting contractors, it is a good idea to get the blueprint of the house ready. This way, you can figure out whether you need a general builder and a specialist. Here are a few tips to select a builder:
Analyse the project's scope: You will find all kinds of contractors in the market — high-end building companies or individual contractors. The selection depends on the scope of the project. High-end building companies may have a better timeline but they may cost you more.
Get recommendations from family and friends: Before contacting the contractors, ask your friends and family for photos of their house, so that you get an idea about the quality of work.
Read online reviews: To know more about the contractors, read client testimonials on their websites. There are many open online forums where clients leave reviews about contractors.