Things you should know about when buying a plot in Durgapur: Useful insights by one of the leading TMT bar manufacturers in Durgapur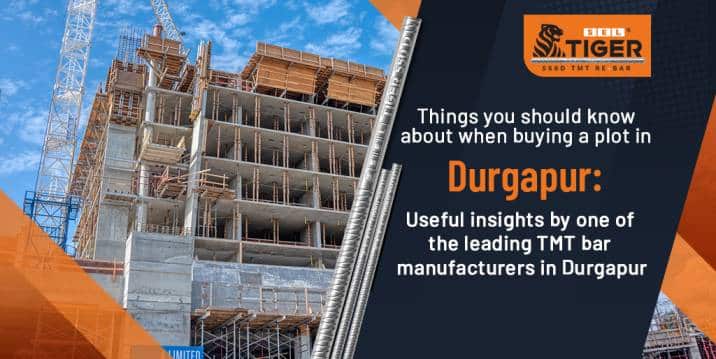 When it comes to buying property, land is one of the best investments in Durgapur. Buying a plot gives you an excellent opportunity to build a house that is custom-made as per your preferences, lifestyle and needs. However,  buying a plot requires due diligence. If you are looking to buy a plot in Durgapur, here are a few things you need to know:
Make sure that the seller is genuine: Before buying a plot in Durgapur, you must check and verify the identity of the seller. Nationality and residence certificate of the seller are some important things to check. If the land is held jointly, the identity of all sellers must be checked.
Check the location of the plot: When you are buying a plot make sure that the location meets your needs. It may be tempting to buy a plot far-off from the city but make sure that it has the basic amenities that you need.
Make approvals and licenses are in place: The most important thing is to ensure that the necessary approvals and license are in place. Some of the common documents that you will need include:
Title deed:

To make sure that the ownership of a property is not in dispute or is free from any form of liens, you must check the title deed of the land. Issued by the local governing authority of a state, the title clearance deed is proof that there's no debt or encroachment associated with the land. 

NA order:

In India,  all kinds of land are classified as agricultural land. To use the land for non-agricultural purposes, you need an NA (non-agricultural)  permission from the collector. 

Encumbrance certificate:

This certificate shows that the land is free from all legal dues. The document is important to establish that there is no litigation on the property.

Release certificate:

If the land was taken on loan, you must get a release certificate from the lending bank confirming that all the dues have been cleared.

Receipts of property tax

: Make sure there are no pending tax dues on the property.

Conversion and land use approvals

: You must ensure that the land is in accordance with the zoning plans of the city. 

Construction approvals:

You ensure that all approvals have been taken for construction before going ahead with the purchase.

Physical verification: You must physically verify the land before investing in it. You must check the documents physically and get them verified by your lawyer and the authorities concerned.
If you are planning to build your dream house in Durgapur, make sure that the construction materials that you choose are of high quality. TMT Bars are one of the most important construction materials as they give strength and durability to a structure. FE 550D TMT bars are known for high strength and ductility.
Looking for TMT bar manufacturers in Durgapur? 
If you are looking for TMT bar manufacturers in Durgapur, explore SEL Tiger TMT bars. We have factories in Sambalpur, Jamuria. Mangalpur, Pakuria and Girdih.  Our Jamuria and Mangalpur plants cater to customers belonging to West Bengal. Our TMT bars are manufactured using the advanced quenching process which makes them fire and corrosion-resistant. As they possess excellent bendability, they can be used in earthquake-prone areas.  Our TMT bars are BIS certified, ISO-certified and NABL-approved.