Looking for the best tmt brand in India? Check this read on hiring a cost-conscious builder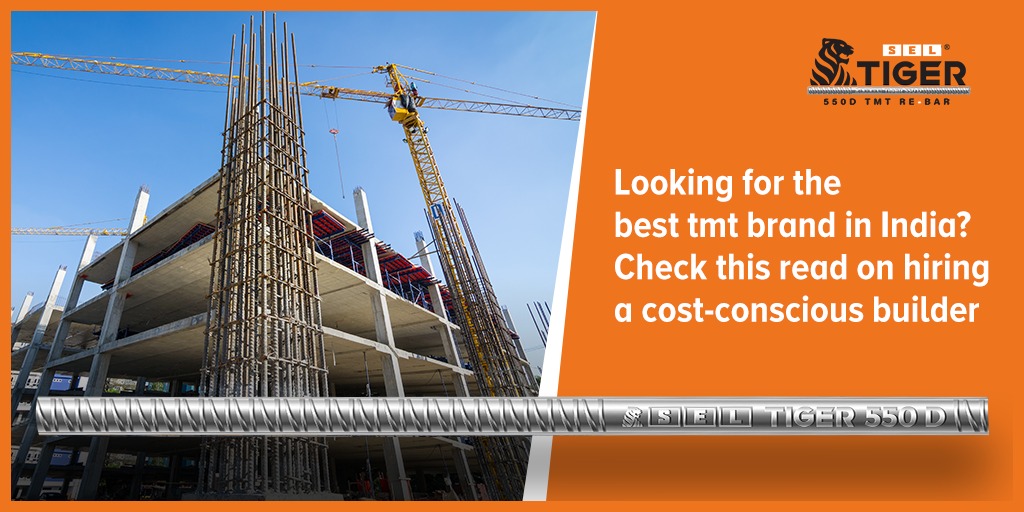 When it comes to building your dream home, you want to find a builder who understands the value of cost-consciousness. You want someone who can work with you to find cost-effective solutions without compromising on quality. A cost-conscious builder can help you stay within your budget by providing a detailed breakdown of the costs involved in the construction process. They can also help you make informed decisions about the materials and design choices where you can save money without compromising the structural integrity of the home. Here we discuss some useful tips to find a cost conscious builder who can help you achieve your goals within your budget: 
Comparing quotes

: Check the market rates before you choose your builder. An ideal way to do that is by getting quotes from multiple builders. You can get a good deal when you get quotes from other builders. Comparing different prices and services will ensure that you are getting the best value for your money.

Check experience

: When looking for a cost-conscious builder, experience is an important deciding factor. Usually an experienced builder can easily identify different cost saving opportunities without compromising on the structural integrity of your house. Research a builder's experience and quality of construction materials the builder uses in projects. Before selecting a builder, schedule a face-to face consultation to discuss their previous experiences and the cost-saving measures they have adopted. You can ask about the builder's approach to customer satisfaction and timely delivery. You want to work with a builder who is responsive to your needs and is committed to delivering your project on time and within budget.

Ask for references

: One effective way to assess a builder's credibility and work experience is to contact the previous customers. When you contact a builder's former clients, ask about their overall experience, including the quality of work, service, communication, timeliness and adherence to budget. Also, ask whether there were any unexpected issues that arose during the project or not. If there were issues, how did the builder handle it?

Check for certifications and licenses

: Certifications are a proof of expertise and standard of quality offered by the builders. Search for builders who have proper certifications and valid licenses to conduct business. A certificate from a relevant authority ensures that the builder has demonstrated substantial knowledge and experience in the industry. Also, check whether the builders are members of any professional associations or not.

Clarify payment terms: Before zeroing in on a builder, check whether you understand the initial estimates and payment terms. Before signing any contract, understand the initial estimates and payment terms. Also, seek clarification on any ambiguous or complex clauses – it will ensure that both the parties are on the same page. This will help you avoid any misunderstandings or arguments down the way.

Get the details in writing

: You need to have every detail of the project in writing. The details are inclusive of factors such as the scope of work, timeline and budget. These terms have to be clearly outlined in writing. 
You might like to read: TMT bar in India for home construction: Check these useful insights
Searching for the best TMT brand in India? 
Check SEL Tiger TMT Bars.  Manufactured using the latest quenching technology, SEL Tiger TMT bars are tougher on the outside and soft on the inside. We provide ISO, BIS certified and NABL approved TMT bars. Our TMT bars are fire resistant – they can withstand high temperatures up to 600°C to 650°C. Our TMT bars have high tensile strength, which makes them ideal for use in earthquake-prone areas.
For more information on TMT bar strength and TMT bar price, contact us.
If you are searching online with phrases such as TMT bar Price Today or TMT bar price, here's a list of FAQs for you
When it comes to construction, using the best materials is of the utmost importance. This is especially true for the TMT bars that make up the framework of a building. They provide strength and enhance the durability of the constructed structure. If you are searching online with phrases such as TMT bar price today or TMT bar price, here's a list of FAQs for you:
Question 1: Why is TMT used in construction?
TMT bars are available in a variety of sizes and grades to suit the specific requirements of the project. TMT bars can bear sudden stress, making them an excellent choice to use in earthquake-prone areas.
Question 2: What is the process of Thermo Mechanically Treatment?
Thermo-Mechanical Treatment (TMT) helps to create TMT bars that are tough on the outside and soft on the inside. This is because the variation in temperature during the manufacturing process creates two layers of steel. The tough outer core provides ductility, strength, and hardness, while the softer inner core gives flexibility and better bendability.
Question 3: How to check the quality of TMT bars?
The easiest way to check the quality of TMT bars is to ask dealers for a certification. TMT bars are certified for quality and safety by leading monitoring agencies that meet safety and quality standards. 
Our SEL Tiger TMT bars are 
ISO Certified

BIS certified

NABL approved
Question 4: How can you tell good quality TMT Bars?
If you are looking for good quality TMT bars, here are a few things to check:
Grade of TMT bars:

  The first thing you need to do is understand the various grades of TMT bars. Some of the common grades are Fe-500, Fe-415, Fe-550, and Fe-600. The numbers indicate the stress level that must be applied to deform the bar.

Latest manufacturing technology:

The strength of a TMT bar is determined by how it is manufactured.

We

use 100% pure steel and the latest Thermex technology to make our TMT bars. This makes our bars tougher on the outside and soft on the inside, ensuring that they are durable yet malleable. 

Flexibility:

It is important to check the flexibility of TMT bars before buying them.

Our TMT bars have superior bendability and their elongation of 14.5% helps in resisting earthquakes.

As a result, you can be confident that our TMT bars will provide the necessary support for your construction project.

Corrosion resistance:

When buying TMT bars, it is important to make sure that they are corrosion resistant and can withstand exposure to groundwater salinity and acid particles.
Question 5: What is the TMT bar price today?
The TMT bar price varies from one state to another. The grade of the raw materials used, the quenching technology employed, and other factors all play a role in determining the final price.  Check the TMT bar price here.
Looking for top-quality TMT bars? Check the features of the SEL Tiger TMT bar
Made with 100% pure steel, our SEL Tiger TMT bars are manufactured using the advanced German-based quenching process. Our TMT bars come with maximum rib area value which makes the bonds with cement stronger. They are available in different sizes, starting from 5.5 mm to 32 mm. Get in touch with us to know more about SEL Tiger TMT.
TMT bar price in Rajasthan and other FAQs answered here
It would not be wrong to say that TMT bars are the backbone of modern constructions. Tougher on the outside and soft on the inside, Thermo-Mechanically Treated (TMT) bars provide durability and strength to the structure. Be it homes, towers, dams or roads, TMT bars are an integral part of the construction. If you are looking for TMT bars for your home construction, here some frequently asked questions and their answers that you will find useful:
Question 1: Why is the TMT bar used in construction?
TMT bars are an important construction material that is used in the main frame that a building stands on. This frame is made of reinforced concrete which gets support and strength from concrete and TMT bar. TMT bars carry the load of the entire construction and provide the building strength. To sum up, TMT bars offers:
Durability
Structural stability
Enhanced reinforcement to construction structures
Question 2: What are the features of good quality TMT bars?
SEL Tiger TMT BARs are among the best in the market. Our best quality TMT bars that are highly durable and malleable at the same time. Our SEL Tiger TMT BARs are known for
Solid Grip on RCC
Resistance to Fire & Corrosion
Resistant to Earthquake
Question 3: How are high quality TMT Bars manufactured?
SEL Tiger TMT BARs are manufactured using the German-based quenching system- THERMEX. We use iron ore and Coal to produce 100% pure steel and our products are certified for MS and CRS Grades through IS 2830:2012 compliance. Our TMT bars also comply with IS 1786:2008 for CRS, FE415, and Fe550D Grade.
Question 4: Are TMT bars affordable?
TMT bars are more cost-effective than other steel bars. The reason being TMT bars (Fe415 and Fe500D) offer superior load-bearing capabilities which allow them to be used economically. The same isn't the case with steel bars. By using Fe415 and Fe500D, you can save about 3 to 4% in your TMT Bar purchases.
Question 5: Do TMT bars rust?
Steel corrodes in existence of chloride ions but TMT Bars are casted with a thermo-mechanical treatment making them highly rust and corrosion resistant. The combination of a proper quenching system and steel makes SEL TMT Bars are immune to impacts from harsh external weathers and corrosion.
Question 6: How to buy good quality TMT bars?
The best and easiest way to buy good quality TMT bars is to buy products that are manufactured using the latest technology with robust quality-check processes. For this, buy TMT bars that carry certifications confirming its adherence to quality and safety standards. SEL Tiger TMT BARs are BIS certified, ISO certified, NABL certified, and have Thermex license.
Question 7: What is TMT bar price in Rajasthan?
With our TMT rate chart, you can see TMT bar price in Rajasthan as well as other states such as Jharkhand, Bihar and West Bengal.