Top 5 Quality to Look for in the Best TMT Bar Company in India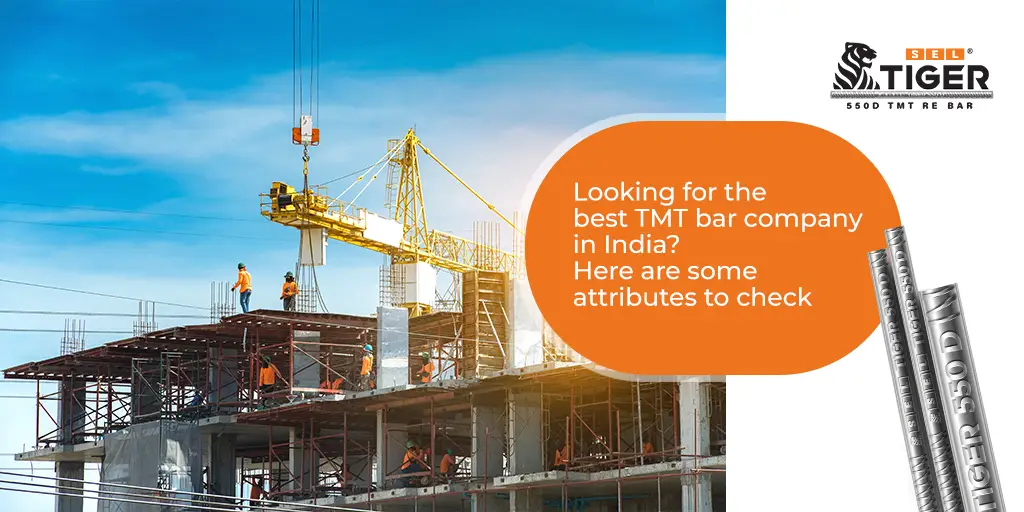 TMT bars are an important component in home construction. They are used in various applications, including masonry walls, reinforcement of concrete structures and steel frame buildings. When it comes to choosing the best quality TMT bar manufacturers in India, it can't be that difficult. Here we have listed  some of the attributes that you need to look out for when choosing the right TMT bars company in India:
How to Choose the Best TMT Bar Company in India: 5 Essential Qualities
Manufacturing technology:
What separates a good manufacturer from an ordinary one is how they manufacture TMT bars. Best TMT bars manufacturers in India use the latest technology to ensure better grip in concrete, good elongation and fire and corrosion resistance. We manufacture our SEL TMT bars using 100% pure steel and THERMEX technology. The unique rib design of our TMT bars ensures a strong and durable bond with cement. 
TMT bar grades that the company offer 
Different TMT bar manufacturers in India offer products of different grades. The grade of the TMT bar determines the bar's strength and elongation.  At the time of selecting a manufacturer, make sure they offer the grade that you need. Fe550D TMT bars are among the most preferred grades across different industries. They are fire and corrosion resistant which makes them ideal for residential, commercial and multi-storey projects. They are also preferred for construction in earthquake-prone areas.
Read Also: Build Your Dream Home Right! Essential Tips from the Leading TMT Rebar Manufacturer
Check the company's market reputation
There are no two ways that the reputation of the company matters a lot. To check a company's market reputation, first, ensure that they offer only certified products. Also look for important information on the manufacturer's website, including their manufacturing capability, customer testimonials, and projects in which they have used their products. For instance, our SEL Tiger  TMT bars are BIS certified, ISO certified and NABL approved. We have manufacturing units spread across West Bengal and Odisha. We have one plant each in Pakuria, Jamuria, Mangalpur (West Bengal) and Sambalpur (Odisha). Our TMT bars have been used in some of the leading housing projects.
Make sure they offer rust and fire-resistant TMT bars
When selecting TMT bar manufacturers in India, quality and safety should be your top priority. Select manufacturers that offer products that can withstand exposure to fire and moisture. Made with superior technology, our SEL Tiger TMT Bars can withstand the impacts of harsh external weather such as rain, groundwater salinity or acidic substances. Our TMT bars are fire-resistant, they can withstand high temperatures up to 600°C to 650°C.
Look for manufacturers that offer earthquake-resistant TMT bars
If you live in an area with a high seismic zone, it's a good idea to go for a manufacturer that offers TMT bars with earthquake-resistant properties. In earthquake-prone areas, the government has made it compulsory to use TMT bars with earthquake-resistant properties.  Our SEL Tiger TMT bars have high bendability, allowing it to withstand the effects of earthquakes.
For more details about our TMT bars, get in touch with us
FAQ
1. What are the top qualities of the TMT bar?
TMT bars are strong, flexible, heat resistant, corrosion resistant, earthquake resistant, and durable. Along with that, the TMT bars are cost-effective. Adding this in construction can in building structures which are resilient, durable, and safe. 
2. What are the three grades of TMT bar I should choose for skyscrapers?
There are varied grades of TMT bar and the application varies based on the grade and diameter. However, if you have to choose three grades then select Fe550, Fe550D and Fe 415. This covers most of the construction requirements for high-rise buildings. 
3. Which one is better Fe500 or Fe500D TMT rer-bars?
Fe 550 and Fe550 D are heavily used in high-end projects. Fe 500D and Fe 500 has a slightly different composition, for instance, Fe550 D has 25% carbon, 40% sulphur 40% phosphorus, and 0.075% S+P, which is lower than Fe 500 contains 30% carbon, 55% sulphur, 55% phosphorus and 105% which creates the difference in the yield stress and elongation properties. Fe550 D exhibits a higher yield strength compared to Fe 500, and the "D" in Fe550D signifies higher ductility.