Useful insights on West Bengal's diverse climate conditions and the increasing use of TMT bars in construction projects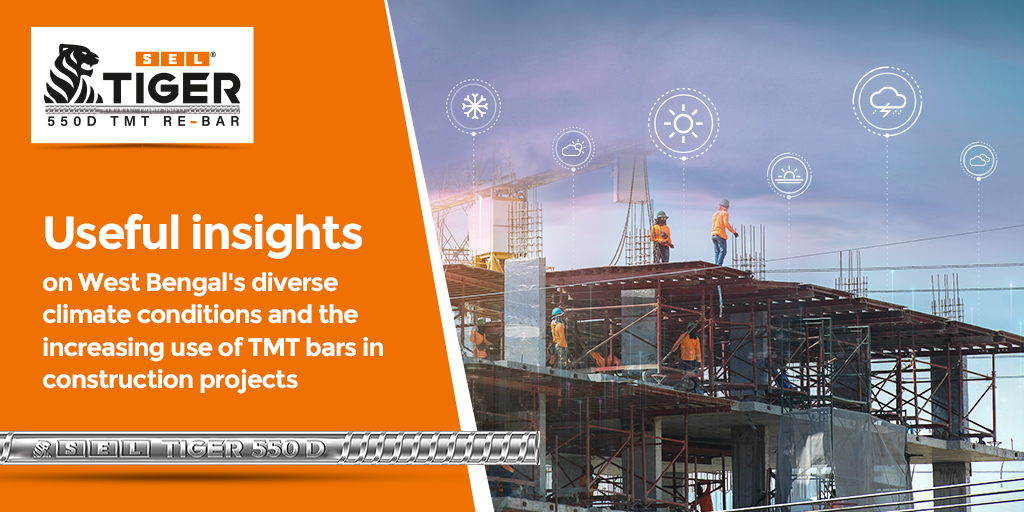 West Bengal has diverse climate conditions. In the tropical regions, such as Kolkata and its surrounding areas, the intense humidity can damage building materials. This is especially true for the materials that are already susceptible to corrosion. After the summers, the monsoons bring heavy rainfall to the state. This can lead to waterlogging. Materials stored in waterlogged areas can also get damaged easily. In the colder regions, such as Darjeeling and Kurseong, extreme temperatures and snowfall can impact the structural integrity of buildings if not constructed with suitable materials. Here we will discuss some of the insights on West Bengal's diverse climate conditions and the increasing use of TMT bars in construction projects
Corrosion resistance:
High humidity levels dominate most summer days in the southern parts of the state. This kind of weather can cause conventional steel bars to corrode quickly. TMT bars are manufactured with a unique process, which gives them a protective layer on the surface. The added layer makes TMT bars highly resistant to corrosion and rust, even in the most humid conditions.
In the monsoons, areas such as Sundarbans and the coastal regions of West Bengal receive substantial rainfall. In these places, the corrosion resistant property of the TMT bars helps maximise the durability of structures.
2. High strength and ductility:
TMT bars offer incredible strength and ductility. This makes them ideal for construction projects in areas prone to heavy rainfall and cyclones. For instance, the coastal regions of West Bengal often face severe cyclonic weather with extremely high wind speeds. High-quality TMT bars are strong enough to withstand such winds.  
3. Weldability and easy workability:
TMT bars are known to be highly weldable. This quality is particularly important in regions such as Darjeeling and Kalimpong. In the hilly areas, being able to weld TMT bars easily and give them different shapes can make construction much simpler. At the same time, the superior bendability of these bars can also be a handy feature when building homes on the face of cliffs.
4. Thermal stability:
TMT bars possess an incredible ability to withstand extreme heat and cold temperatures. The change in temperature does not affect their structural integrity in any way. This makes them just as well-suited for buildings in the hilly areas and the plane regions of West Bengal.
You might like to read: How to integrate sustainable practices into the construction process.
Looking for top TMT bar companies in West Bengal?
If you are searching online with phrases, such as "top 10 TMT bars in West Bengal" or "top 10 TMT bar company in West Bengal", explore our TMT bars. Our corrosion-resistant TMT bars provide excellent structural support to diverse types of constructions. Our bars are made from pure grade steel, which makes them recyclable and sustainable. Also, they form strong bonds with concrete, ensuring structural integrity of the building. With inherent protection against seismic activities and fire, our TMT bars can keep the building occupants safe. 
We manufacture bars of various grades, including Fe415, Fe500, Fe500S, Fe500D, Fe550D, and Fe600. Each of these grades are suited for specific types of construction and have varying load bearing capabilities. All of our TMT bars come with the IS 1786:2008 certification.