Check these previous home decor trends that are making a comeback: insights by one of the leading manufacturers of the best TMT bar in India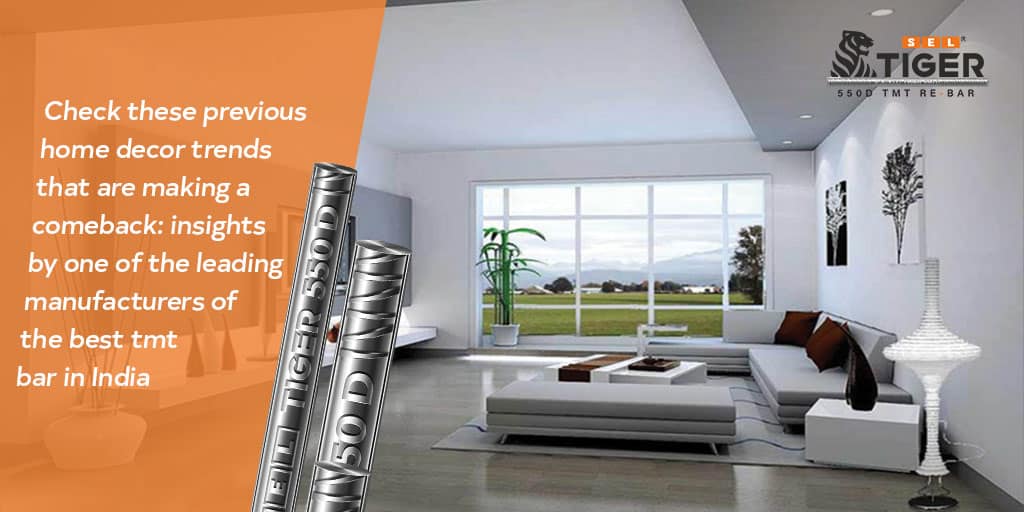 Old seems to be new when it comes to home decor trends these days. Trends from the past are becoming quite popular. If you are planning to give your home a vintage look, we as one of the leading manufacturers of the best TMT bar in India, share with you trends that making a comeback
Indoor plants are all the rage: Social media is filling up with images of colourful plants crammed into small balconies, window sills and kitchens. Indoor plants became popular in the 1970's. However, in between they remain somewhat popular.  However, during the pandemic, they gained immense popularity. Indoor plants give an earthy touch and rustic appeal to your home. Snake plants,  aloe vera and peace lily are among the trendy plant choices today. Cacti and succulents are great choices to give a desk a lively vibe.
Pastel colours are back with bang: Pink, peach, lavender, pistachio green, and powder blue are some of the hues that are back in trend. The early 1950's witnessed an explosion of bathrooms with toilets, tubs, and sinks and walls tiled in pastel shades.  These colours pink are making a comeback.
The retro vibe of rattan furniture is here to rock: In the 1970s, rattan furniture was a popular choice for outdoor seating. However, in 2021, rattan is no longer confined to the outdoors.  Rattan chairs are quite commonly seen in the living rooms while rattan baskets have found their place in bathrooms or as an organiser in the living room. They add texture and rustic vibe to rooms.
Shabby chic furniture:  Shabby chic is an interior design style that embraces a worn, lived-in look. Vintage furniture pieces that may look a little worn out give the house a distinct look and appeal.
Nature-inspired wallpaper: In the 1960s, wallpapers were an important part of home decor. With paisley and floral designs being the most popular. However, their popularity faded a little bit and gave way to accent walls with textured paint. However, they are a key trend in 2021. Homeowners are using wallpapers to give their house a new look. Wallpapers are a cost-effective way to give you update your home and add interest to any room.
Note: Whether you love retro vibe or a modern interior design style, make sure you use the quality construction material at the time of building your house. TMT Bars are one of the most important construction materials as they are the backbone of a house. 550D TMT bars are an ideal choice for your home as they are corrosion resistant and earthquake resistant. They are highly seismically resistant. Therefore, they are preferred in building construction in earthquake zones 3, 4 & 5.
Looking for the best TMT bar for roofs?
A solid roof on a building is important for the safety of those who live in the house. The roof should be constructed using top quality TMT bars. If you are looking for the best TMT bar for roofs, explore SEL Tiger TMT bars. Manufactured using the advanced quenching process, Thermex, our TMT bars are fire and corrosion resistant. They are known for excellent bendability and thus ideal for earthquake-prone areas. Our TMT bars are
BIS certified
ISO certified
NABL approved
Get in touch with us to know more about our TMT bars