Building a new home in Rajasthan? How to prepare for a meeting with an architect?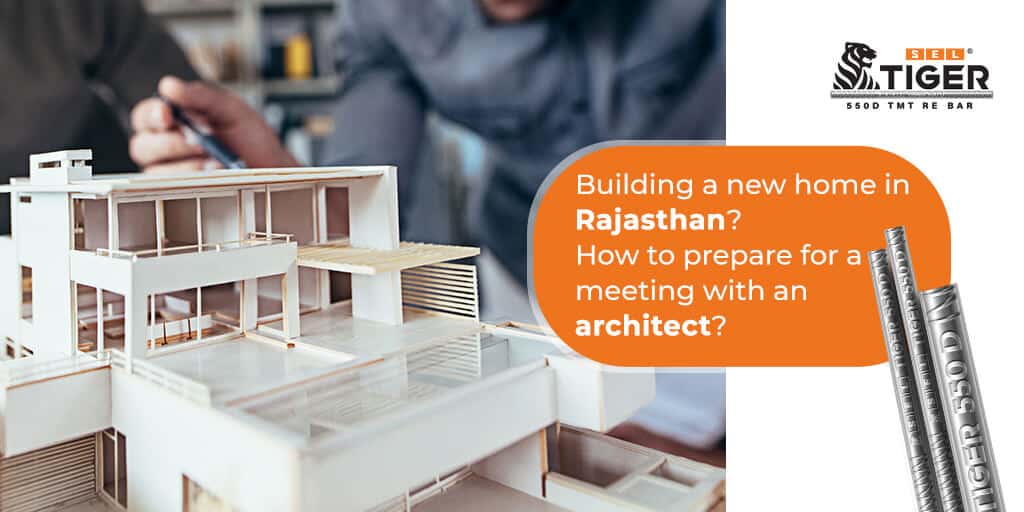 If you live in Rajasthan and are building your dream house for the first time, finding the right architect for your project is important. It is essential to meet different architects to determine if they possess the right skills to develop your project. To get the most out of your initial meeting with an architect, it's important to be well-prepared. Here are some tips to prepare for a meeting with an architect:
Check their credentials
Though in India, architects do not need a licence to practice, it's a good idea to work with an architect who is registered with the Council of Architecture. Before meeting different architects, do your due diligence with regards to their credentials and experience. Ask to see examples of their previous work and see if they have any previous customer testimonials.
Know your needs
Building a new home isn't an overnight process. It's something that could take anything from a few months and even years, depending on the scope of work. As an architect has an important role to play in this journey, it is essential to understand different types of architects and what you need. For instance, if you are renovating your house, you may need an interior architect who can focus on creating interior spaces. However, if you are building a new house, look for residential architects with similar experience.
Create checklist
For a fruitful meeting, go to your first meeting with an architect fully prepared. Write down all your must haves/wants. It's also a good idea to take plenty of newspaper/magazine cuttings of home designs you really like. This way you will be better able to tell what you want and the architect will know the kind of home you're looking for.
Talk money
It is best to tell your architect about your budget and at the same time, understand how his or her fees will be calculated. Some architects charge on the basis of the time they invest while some while others search a fixed percentage of the overall construction cost.
Ask what quality construction materials
Architects work closely with structural engineers on choosing construction materials based on their load-bearing capabilities. Concrete, TMT bars, steel, wood, masonry, and stone are some construction materials that are used in building a house. Each has different grades, strength, and durability, which make them right for various applications. Architects also choose materials based on cost and aesthetics. During your meeting you can ask what grade of construction materials they recommend.
As TMT bars carry the load of your entire building, ask architects to suggest the right grade of TMT bars for your project. Fe 550D TMT bars are widely used for residential and commercial projects.
Looking for top quality TMT bars in Rajasthan?
Our SEL Tiger TMT bars have been used in leading housing projects. Made with superior technology, our SEL Tiger TMT Bars
Can withstand the impacts of harsh external weather such as rain, groundwater salinity or acidic substances.
Can withstand high temperatures up to 600°C to 650°C.
Are ideal high seismic zones as they have high bendability, allowing them to withstand the effects of earthquakes.
are BIS certified, ISO certified and NABL approved.
To know the TMT bar price in Rajasthan, get in touch with us.
Ask what they need from you
Before you end the meeting, ask the architect what information they need from you. An architect might need information relating to land deeds. This will help the architect understand what are the local regulations and what permission needs to be taken before any kind of construction work is started.