Looking for a TMT rod dealership? Here's what you should look for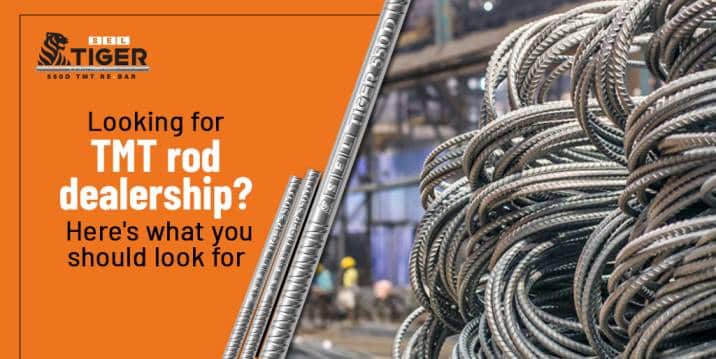 There's a huge demand for building materials in a developing country like India. If you are looking for a TMT bars dealership, it is important to partner with some of the leading manufacturers. Here are a few things you should look for when choosing a TMT rod dealership:
1. Consider quality: TMT bars are one of the most essential components in construction. They provide the necessary strength to structures, ensuring their safety and stability. The raw materials used in TMT bars affect their yield strength and ductility.
 SEL Tiger TMT bars are made using iron ore and coal to produce 100% pure steel. The perfect combination of carbon and manganese in the bars give them strength, making them fire, corrosion, and earthquake-resistant. 
Note: The quality of TMT bars is good when manufactured in integrated steel plants. The reason being companies do all the tasks from choosing raw material to molding and final finish. They have complete control over the quality of the TMT bars. We have  one of the best integrated steel manufacturing companies in India.
2. Manufacturing technology: When you are looking for a TMT rod dealership,  you must shortlist manufacturers who use the latest manufacturing technology. For instance, the cold twisting process of manufacturing Is no longer in use and many manufacturers have switched to hot treatment technology as that ensures higher yield strength.
We manufacture the TMT bars using Thermex technology, a German-based quenching system.  The automated CNC machines give our TMT bars a uniform rib pattern. The unique rib pattern of our TMT bars gives a strong and long-lasting Tiger Bond with RCC.
3. Relationship-focused culture: Look for TMT bars manufacturing companies that have a relationship-focused culture. At our company, we ensure that we have a collaborative and relationship focussed nature with our dealers. We have dedicated representatives for different areas with whom our dealers can interact directly.
4. Regular dealer meetups: When you are looking for a TMT rod dealership, look for a company that treats you like a partner and keeps you updated with the company's updates. We organise regular dealer meetups so that our dealers are updated
latest offerings. These meet-ups also present an excellent opportunity to dealers to any challenges that they may be encountering. Taking our dealers' feedback, we try to iron out problems.
5. Attractive profit margins: When you are looking for TMT companies that can ensure attractive profit margins, look for companies that help you to improve your inventory methods to avoid markdowns, reduce operating expenses and improve brand image by investing in branding and marketing.  We ensure that our dealers have attractive profit margins by offering all the support they need.
6. Year-round availability of products: As a TMT bar dealer, you must choose a manufacturer that can ensure not just quality but also scalability and timely delivery.    Make sure that the manufacturers you are dealing with have state-of-the-art facilities and multiple factories.   We have factories in Sambalpur, Jamuria, Mangalpur, Pakuria.  We ensure faster delivery in eastern India.
7. Dealer financing support: Dealers form an important link in the supply chain network and good TMT companies realise that. They provide dealer financing support to dealers via revolving and short-term loans. We offer our dealers financing support so that they have access to additional working capital. This enables them to drive business growth and increase our distribution penetration.
Looking for a TMT bars dealership? 
We have a wide network of dealers through which we cater to customers across India. 
If you want to become an authorised dealer of  SEL Tiger TMT bars, get in touch with us.