Ideal storage conditions for TMT bars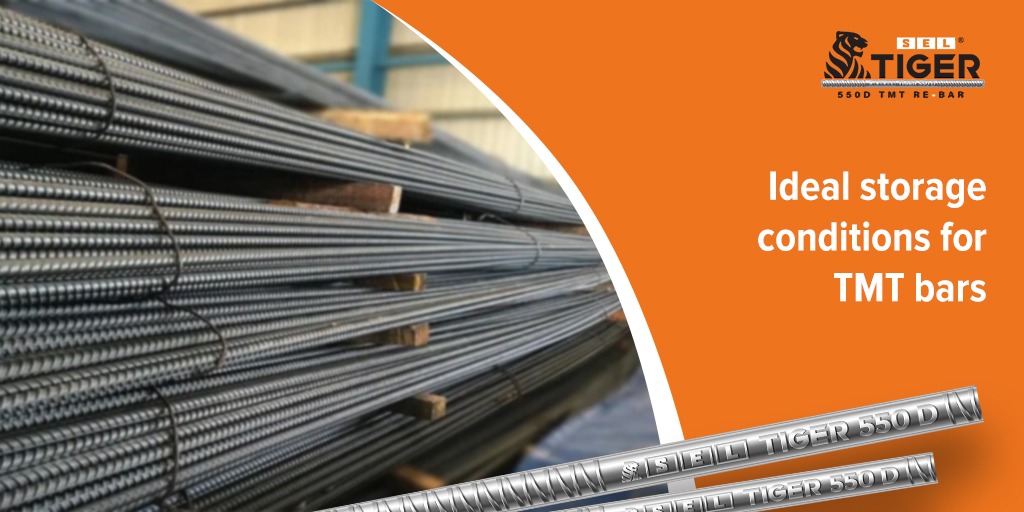 TMT bars undergo thermo-mechanical treatment to improve their ductility, strength, and bendability. However, proper handling and storage of TMT bars are crucial to maintain their quality and features over time. Improper handling and storage can lead to damage to the TMT bars. As one of the leading TMT bar manufacturers, we share some of the useful insights on the ideal storage conditions for TMT bars: 
1. TMT bars should be stored in a dry and damp proof space. TMT bars are reactive to moisture, and if left exposed to humid air or water for an extended period, they can rust and corrode, leading to damage and compromising the overall strength and stability of the steel. 
2. In case of open construction spaces, it is important to store TMT bars in a location that can be covered with polythene sheets, which can protect them from dust and moisture. 
3. To ensure proper handling and storage of TMT bars, organise them into bundles according to their grades and diameters.
4. Avoid over-stocking the storage room with TMT bars, as this can lead to accidents due to overloading or improper stacking.
5. Avoid storing  paints, chemicals or any other corrosive substances in the same storage area. 
6. When storing TMT bars for an extended period, it is important to avoid cleaning them with oily substances to remove any dust particles or rust.
7. Maintain consistent temperatures in the warehouse where you keep your TMT bars. Although TMT bars are made to withstand extreme temperatures, it is not ideal to subject them to temperature fluctuations. 
8. You need to regularly inspect TMT bars for any damage or dirt accumulation. The rib surface of TMT bars can quickly catch dust which is why it is important to clean them regularly. 
For proper storage and handling of TMT bars, you must have a comprehensive understanding of their manufacturing processes. You must be aware of different aspects such as – composition of TMT bars, the available grades, and the manufacturing process used. This knowledge is important to ensure that TMT bars are stored correctly, and buildings are constructed with maximum strength and durability.
You might like to read: useful insights on storing common construction materials such as cement and TMT saria.
Looking for the best TMT bar manufacturer?
If you are looking for high-quality and sturdy TMT bars, explore SEL Tiger TMT Bars. As a reputed TMT bar manufacturer in India, we produce 100% pure steel using iron ore and coal, and integrate the THERMEX quenching system, a German-based technology. Our products comply with the IS 2830:2012 standards for MS and CRS Grades and meet the IS 1786:2008 standards for CRS, FE415, and Fe550D Grade TMT bars.