Professionals to Consult when Constructing your Home: Useful Insights by one of the best TMT Bar Manufacturers in India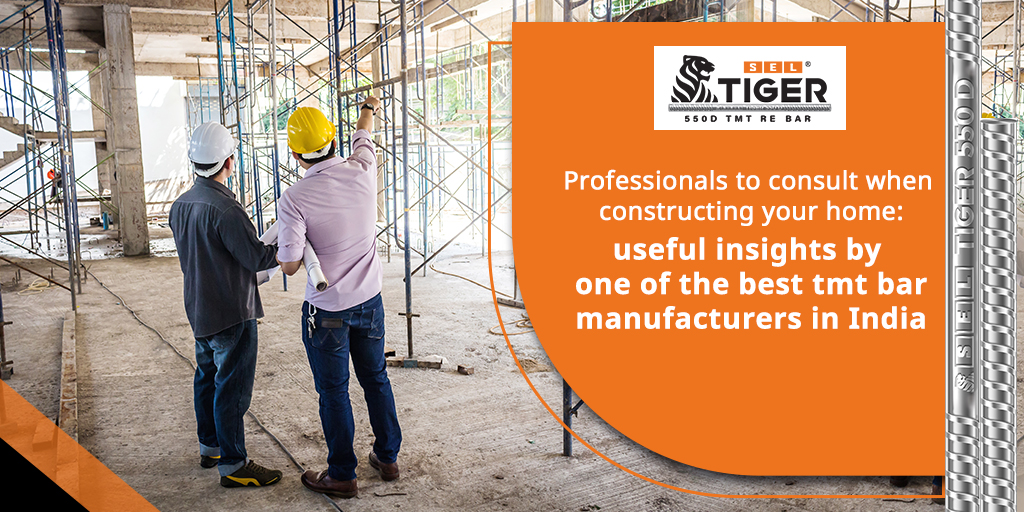 Constructing a home in India requires a comprehensive approach that involves consulting with various professionals to ensure a smooth and successful project. From the initial stages of architectural design to the final touches of material procurement, each step plays a vital role in the construction process. By engaging with the right experts, you can navigate the complexities of home construction and achieve the desired outcome. As one of the leading TMT bar manufacturers in India, we share with you some of the useful insights on different professionals to consult when constructing your home:
1. Architect –  When it comes to designing your dream home, an architect plays an important role. These highly skilled professionals possess the expertise to understand your requirements and transform them into functional and visually appealing designs. Architects carefully consider various factors, including space utilisation, ventilation, lighting, and structural integrity, to create a harmonious and efficient living space. Moreover, architects ensure that the designs comply with local building regulations, ensuring the safety and legal compliance of your home. By working closely with an architect, you can have confidence that your dream home will not only meet your needs but also embody a blend of practicality and aesthetics.
2. Structural engineers – A structural engineer plays an important role in the design and analysis of the structure of your home. These engineers provide their technical know-how and expertise to your project, offering insightful advice and direction throughout the whole construction process. The structural engineer and architect collaborate extensively early on to establish certain guidelines. To make sure that your home can handle the predicted loads and forces, they evaluate the design's viability and examine the structural elements.
3. Electrician – When it comes to the installation of electrical systems in your home, an electrician plays a vital role. A certified electrician is well-versed in local building codes and regulations pertaining to electrical work. This ensures that all electrical installations and repairs meet safety standards and comply with code requirements. By adhering to these guidelines, you can have peace of mind knowing that your electrical work is done safely and legally.
4. Contractors – Contractors serve as the backbone of any construction project, overseeing and executing construction activities. They play a pivotal role in procuring the necessary materials for the project as well. An experienced and reliable contractor understands the importance of using high-quality materials, such as the best TMT bars and cement. By opting for premium materials, the contractor ensures that the structural integrity of the house is enhanced, enabling it to withstand the test of time and natural elements.
5. Interior Designer – A qualified interior designer can transform a space, whether large or small, by clearly defining different areas and their functions through the use of furnishings, flooring, colour, textures, and lighting. They have the ability to maximise the use of space, making it appear larger and optimising storage and functionality. They also bring fresh inspiration by providing suggestions on fabrics, wallpapers, paints, finishes, and other design elements. They also consider special needs such as accessibility and ageing in place,  ensuring that homes are designed to accommodate specific requirements such as wheelchair accessibility and ease of movement.
Searching for the best TMT bar in West Bengal?
Explore SEL Tiger TMT Bars. Our TMT bars have several noteworthy features. For instance, they possess a high level of strength, making them capable of withstanding substantial loads and forces. Also, they exhibit excellent ductility, allowing them to undergo deformation without fracturing, thereby enhancing their resilience. Moreover, our TMT bars offer exceptional weldability, enabling them to be seamlessly integrated into various construction projects. These combined features make our TMT bars a versatile and reliable choice for a wide range of applications in the construction industry.