Top Challenges faced by homeowners during construction: Useful insights by a TMT bar supplier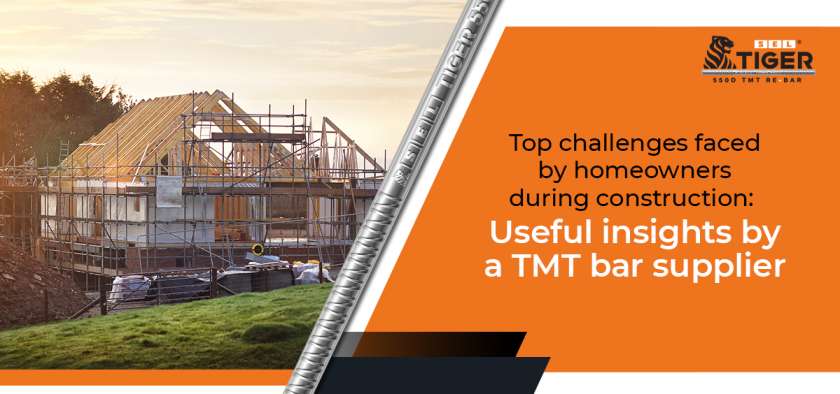 As a homeowner, you will find your home construction project exciting and rewarding.   But it can also come with some challenges. As a reputed TMT bar supplier, here we share useful insights on common challenges that you may face during construction:
1. Project approvals: The first step to building your dream home is getting the approvals for your project. You need to get several approvals before the contractor can start working on the project.  You need to get approvals from several government and municipal bodies. This may entail a lot of applications and submissions which can be time-consuming. Some of the common approvals you need are: 
Land clearance 

Building approval

Zonal approval 
2. Finding the right contractor: Finding the right contractor who will understand your specific requirements and ensure the perfect home construction is very important.  To shortlist potential contractors, you will have to research, read reviews and ratings online, and check to see if they are licensed.
3. Budget constraints:  Staying within the budget is one of the biggest challenges you may face.  The cost of construction materials, labour, and other expenses can quickly add up. It is important to carefully plan and allocate funds to stay on track. Thus,  you must have a proper understanding of your budget and discuss it in detail with your contractor to avoid changes or modifications to the original plan. 
4. Safety concerns: Construction sites are usually hazardous places. Therefore, it is important for you to make sure that the contractor you hire is reliable and follows all safety measures. This should be done for the safety of workers and site visitors like you and your family members.
5. Deciding the house plan and related changed orders: Change orders are required when you want to make changes to the initial construction plan. These changes will delay the project time and cost extra. It is recommended that you carefully consider the changes you want. 
6. Finding quality building materials: Ensuring that your contractor uses high-quality building materials can be a major concern for you. You may face some challenges in deciding which cement, ready mix concrete, TMT bars, waterproofing solutions and other building materials to use. When you are choosing building materials, always ensure that  you choose products that not just meet your budget but are also suitable in terms of durability and strength. The materials used in construction need to be strong enough to support the weight of the structure and withstand the various forces it will be subjected to, such as wind, rain and earthquakes. 
To create a strong structure, you need good quality cement and TMT bars. Though cement is strong, you need TMT bars to give the structure stability and strength. When high-quality TMT bars are used, structures can resist the effects of seismic activities.  Fe550D TMT bars are recommended for earthquake-prone zones. 
Looking for a reputed TMT bar supplier? 
If you are searching 'TMT tmt bar suppliers near me', online explore SEL Tiger TMT Bars.  Made using the latest and advanced technology, SEL Tiger TMT Bars are corrosion and fire resistant. They are also highly ductile and resistant to earthquakes. SEL Tiger TMT bars have a higher elongation percentage than other TMT bars. This high bendability of SEL Tiger TMT bars help the structure to withstand tremors and the after-effects of earthquakes.  Our SEL Tiger TMT bars are Fe 550D grade. For more details feel free to contact us.