Looking for TMT bars in Siliguri? Here are some factors you should look for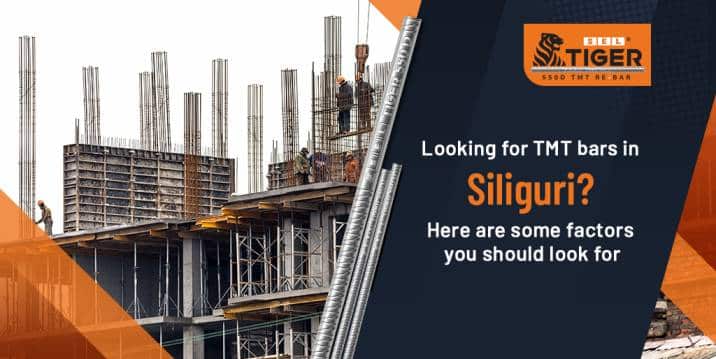 For years, TMT bars are seen as a symbol of endurance and strength. And, when you are constructing your dream home, you would want to ensure that you are using high-quality TMT bars. However, the market is flooded with TMT bars. So, how do you choose the right product for your home? 
As one of the leading TMT bar manufacturers, we share with you a few important factors that you should consider when buying the right TMT bars in Siliguri:
High-quality pure steel: The quality of raw materials influences the overall quality of the finished TMT bars. Use of scraps or substandard raw materials will result in poor-quality TMT bars which will affect the strength of the structure. You must buy TMT bars from manufacturers that adhere to the strictest quality standards.
As one of the leading TMT bar manufacturers, we ensure that SEL Tiger TMT bars are made of 100% pure steel.
Manufacturing  process: What separates good-quality TMT bars from ordinary ones is the manufacturing process. The cold twisting process is almost obsolete.  To manufacture the high-quality TMT bars,

we use Thermex technology, a German-based quenching system. The quenching, self-tampering and atmospheric cooling harden the surface of the bar and increase its tensile strength.  Our TMT bars have a unique rib design that ensures a stronger, long-lasting bond with RCC.

Grade: Before you buy TMT bars in Siliguri

, you must determine their grade of steel bars. To construct buildings in high seismic zones, a high grade of TMT bars is recommended. FE 550D is a superior grade of TMT bars which is recommended for earthquake-prone zones.
Our SEL Tiger TMT bars have 16% elongation. Normal TMT bars have 12%. This flexibility and bendability property make our TMT bars ideal for earthquake-prone areas.
Design: It is interesting to note that the design of TMT bars have an effect on their performance. TMT bars with ribbed design are better quality than other products in the market.  This unique technology adds strength and weather resistance to the TMT bars.
Our SEL Tiger TMT bars have a unique rib design that gives maximum Rib Area (AR) value. This ensures a strong and long-lasting reinforcement with concrete.
Anti-corrosive property: Rain, groundwater salinity or acidic substances weaken the structure of the house over the years. However,  good-quality TMT bars have anti-corrosive properties and can withstand the effects of these structure-weakening elements.
Certification: It is important to buy TMT bars that come with certification.  When reputed monitoring agencies such as BIS and ISO certify TMT bars, it gives you a sense of trust that the product you are buying meets certain quality standards. Our bars are:
BIS certified

ISO Certified 

NABL approved 
Buy high-quality TMT bars in Siliguri 
For high-quality TMT bars in Siliguri, explore SEL Tiger TMT bars. We offer TMT bars in different sizes – ranging from 5.5 mm to 32 mm. To check TMT rod price in Siliguri, click here.