Useful insights on creating the perfect floor plan for your home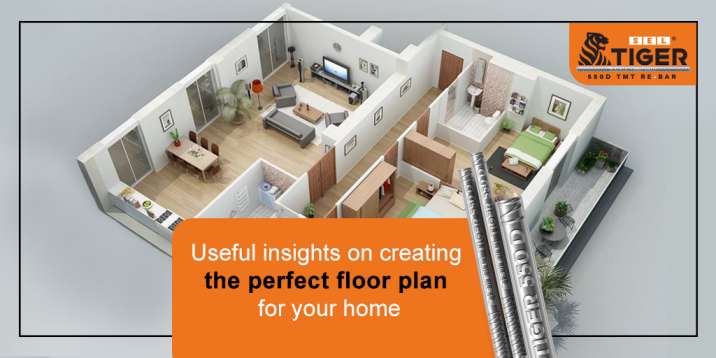 A floor plan shows the basic layout of the property in scale from an aerial view. The drawing shows the relationship between rooms and how people will move through them. If you are getting your house built, an architect will design a floor plan that will give you an idea of the flow of the space. It will serve as the initial blueprint for your home that the contractors will refer to during construction. Here are some useful for creating the perfect floor plan for your home: 
Know the traffic flow:

The layout of your home can have a big impact on the way you live. If you're looking for a more open and spacious feel, an open-plan living/dining/kitchen space may be right for you. This type of floor plan is becoming increasingly popular as it can make a home feel larger. Another important consideration is the flow between indoors and outdoors. If you plan to spend a lot of time gardening, you'll want to make sure your backdoor is open to the kitchen or near a small bathroom so you can easily wash the dirt off before tracking it through the house.

Ensure to have a good amount of storage:

Having a place for everything and keeping your things organised can be a challenge, especially if your storage spaces are limited. That's why it's important to plan ahead and make sure you have enough room to store all of your belongings. When you're designing your home, be sure to include plenty of pantries, closets, and built-in cabinets. You can always fill the extra space with items that you use on a daily basis or seasonal decor. But if your storage areas are too small, you'll find yourself constantly struggling to find a place for your things.

Be practical:

While the clean lines and open concept of modern home design have their merits, there is something to be said for a more traditional floor plan. If you entertain often or have children, you may find that an open concept house can feel a bit chaotic. Having defined spaces for different activities such as a living room for relaxing and a family room for watching TV can help to create a sense of order in your home. Though it may seem like a small detail, having a closet or mudroom near the front entrance can be extremely convenient for both you and your guests. When it comes to your home, don't be afraid to go against the trend and choose what works best for you and your family.

Be aware of the future needs:

When you are planning your dream home, it is important to think about more than just the present. You also need to think about the future and how your needs may change over time. For example, if you have children:
Will your home be able to accommodate many children?

Is there any space for a nursery?

Do you have space to boost your home-based business? 
Note: Make sure the contractor uses top-quality construction materials. TMT Bars are one of the most important building materials as they support the entire structure. Use 550D TMT bars as they are known for high strength and ductility. 
Are you looking for the best TMT bar company in India?
If you are looking for the best iron rods in India, explore SEL Tiger TMT bars. Our TMT bars are corrosion and fire-resistant and earthquake-resistant. Our TMT bars are ISO certified, BIS certified and NABL approved. Get in touch with us to know more.